Wales captain Sam Warburton's mistake vow
Last updated on .From the section Rugby Union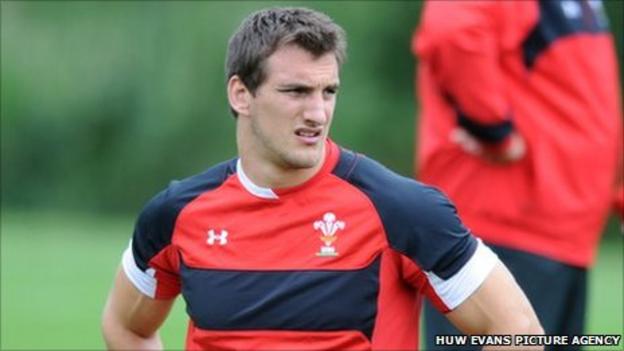 Captain Sam Warburton promises not to repeat the mistake that cost Wales victory in his first match as captain when they face England on Saturday.
The Cardiff Blues flanker, 22, led Wales to a 31-28 defeat by the Barbarians in June after they led 28-24 going into the last minute.
"We didn't keep it tight so that's a mistake that I've learned from and I definitely won't make again," he said.
Wales name their team on Thursday for Saturday's clash at Twickenham.
Warburton added: "It was gutting against the Barbarians that we didn't just keep the ball for that last minute in play.
"And it's something we wanted to do and for one reason and another we didn't keep it tight so that's a mistake that I've learned from and I definitely won't make again.
"That's something that you know from when you're 15-years-old, but we just didn't execute it in the game.
"So I was really disappointed with myself - I still hang myself about it now so I'd definitely like to put in a better performance at the weekend."
The match at Twickenham is the first of Wales' three-World Cup warm-up games.
Warren Gatland's side host England in a rematch at the Millennium Stadium on Saturday 13 August.
A week later Argentina visit Cardiff and Gatland is due to name his 30-man tournament squad on Monday 22 August.
Warburton hopes to be among their number and believes England's style will be ideal preparation for a World Cup pool that includes South Africa, Samoa, Fiji and Namibia.
England won 26-19 in Cardiff in the Six Nations with Warburton among their victims.
"England are really physical," said Warburton.
"In my experience, when we played England in the Six Nations I've never felt so physically battered after a game as I did when we played them recently.
"So they are going to be a big, physical challenge - we know that, especially after a pre-season.
"They are going to be in very good shape and I think that is perfect preparation for South Africa and Samoa because we'll expect that from those two nations."
Warburton is grateful for the chance to lead his country again in hooker Matthew Rees' absence, but did not expect to wear the armband as he and his team-mates concentrated on training camps that included two stints in Poland.
He added: "When you're over in Poland it's just all about the rugby and fitness and I didn't think about the competitive matches coming up.
"But Warren told me yesterday [Monday] and I was thrilled I was captain again.
"I enjoyed my last experience as captain so hopefully I can get a win this time. I wouldn't fancy two out of two losses.
"We've got to walk the walk now haven't we? We've done so much preparation it would be disappointing to let ourselves down on Saturday.
"So I think when we're playing we'll remember the dark places we were in in Poland when we were slogging it out.
"So hopefully that can stand us in good stead.
"The win now is going to be really important especially with the World Cup coming up."