JJ Williams unhappy at Sam Warburton's captaincy role
Last updated on .From the section Rugby Union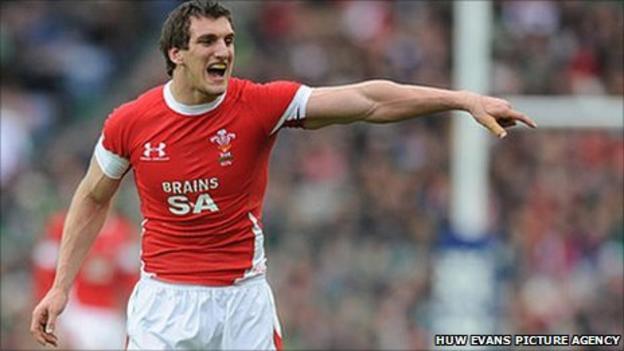 Wales and British and Irish Lions legend JJ Williams says Sam Warburton should not be captain against England at Twickenham on Saturday.
But he believes Warburton's arrival on the Test scene means Martyn Williams' international days are over.
"I wouldn't have put the pressure on the young man [Warburton]," said the former Llanelli wing.
Williams also thinks Wales can benefit from the media circus surrounding new England centre Manu Tuilagi.
Flanker Warburton, 22, overtook veteran fellow Cardiff Blue Martyn Williams in Wales coach Warren Gatland's pecking order last season.
The Glamorgan Wanderers product was also named captain for Wales' 31-28 defeat by the Barbarians in June.
Hooker Matthew Rees's absence due to a neck injury prompted Gatland to again name Warburton as captain for the World Cup warm-up game.
JJ Williams understands the faith the Wales management team have put in Warburton's long-term leadership potential, but thinks the captain's armband at Twickenham should have gone to fly-half Stephen Jones.
"I think he [Warburton] is established now. I think we've seen the last of Martyn [Williams] and Sam has done quite well.
"I'm surprised they've picked him captain. If Matthew Rees is going to be the captain in the World Cup I wouldn't have put the pressure on the young man.
"I would have given the captaincy for this game to Stephen Jones, who's a very experienced man, 101 caps this weekend.
"He could have coped with that - all the pressure that goes with the captaincy.
"Sam could have just concentrated on the game because as he said, he found the last game against England tough physically.
"Well, it's going to be equally as tough this weekend, isn't it?"
Tuilagi achieved notoriety for landing several blows on current squad-mate Chris Ashton in the Aviva Premiership play-offs last season.
The 20-year-old Samoan-born Leicester centre is one of six rugby-playing brothers from the South Sea Islands, including eldest brother Fereti who played for Cardiff Blues in 2004-05 after leaving Leicester.
Echoing some of the thoughts of England centre Riki Flutey, Williams says the Welsh midfield of Jamie Roberts and Jonathan Davies are a match for Manu Tuilagi.
Williams added: "Can he cope with all this pressure? That's what it's all about.
"You know he has the talent.
"It's alright playing for Leicester in club rugby, but this is a different level altogether - World Cup warm-up match against Wales in front of 80,000 people.
"The pressure around him is enormous so it will be interesting to see if he can cope.
"If he's as good as what the boys are saying then we're in trouble in Wales, but I'm not too worried about him, as it happens.
"I think our midfield will cope with his size.
"We've got [wing] George North who's a year younger and equally as big as Tuilagi so the English press are building up this young man, putting a massive pressure on his young shoulders - it's all going to fall apart isn't it?
"And remember he's up against Jamie Roberts… he's not a small guy himself, is he? And Jonathan Davies.
"So it's going to be a massive clash there, but you [the English media] are putting some pressure on that boy and I hope he can't cope with it."
However, while Williams dismisses the Tuilagi threat, he fears Wales' forwards will not be able to match their opponents.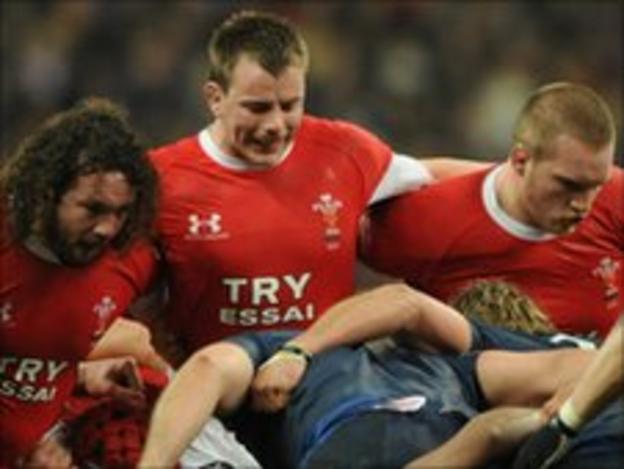 "I'm not expecting Wales to win, but I want them to be competitive.
"If they stay within three to five points it will be a good result and then we can possibly turn it around seven days later when they come back to Cardiff.
"But we've got a strong backline, as good as anything. I think it's a better backline than the English backline.
"But I really worry up front. We're without our front-row. Our captain Matthew Rees is out, Adam Jones and Gethin Jenkins are out.
"So the front row is not that top class, really, and England have got such a powerful eight - a huge team, I don't know if our pack can get the ball for our talented backs.
"They can say we're going to play nice rugby and throw the ball about.
"But we all know you've got to graft it out and unless you can graft it out in that first half hour, then I don't think we're going to be in the game."
England and Wales clash again on Saturday, 13 August in Cardiff. Then Argentina visit the Millennium Stadium on 20 August.
Two days later Gatland names his final 30-man squad with Wales' opening World Cup game against South Africa on 11 September in Wellington.