Scotland's Chris Paterson targets record fourth World Cup
Last updated on .From the section Rugby Union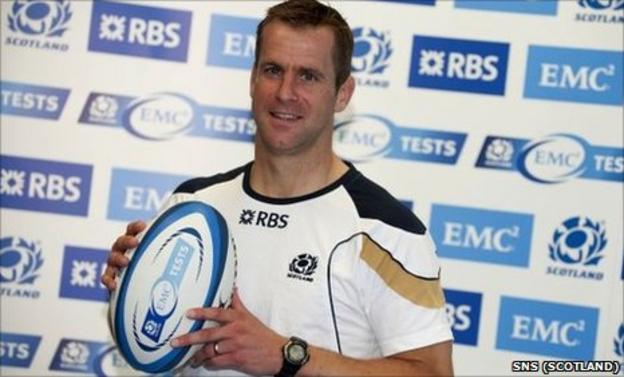 Scotland's Chris Paterson is aiming to make history by playing in a record four rugby World Cups.
The Edinburgh player will feature in Saturday's warm-up match against Ireland at Murrayfield.
And he hopes to be in the squad for the September tournament when it is announced on August 22.
"It's a goal of mine, to reach the World Cup, because it's the next big challenge I've set myself," Paterson said.
"If that's the case , then I'd be delighted.
"But I've always said these are things I'll probably be more proud of when I stop.
"At the moment it's just trying to get there and doing the best you can and performing well."
Saturday's Test against Ireland will Paterson's fourth successive start in the full-back berth after recovering some of the best form of his 12-year international career.
But Paterson, who made his debut in the 1999 World Cup, does not believe the number 15 jersey is his to lose.
"I never feel you own it or it's yours," he added.
"The way the season went last year it was quite nice, the way it finished - it wasn't great to start with, it finished a bit better.
"But that was last season. I always start from a clean slate every season."
The Ireland fixture is the first opportunity for players to prove they are deserving of a place on the plane to New Zealand.
And Paterson is urging his fellow players to make as much of that opportunity as possible.
"Games like tomorrow are hugely important, to see where we are.
"We won't be the finished product, we won't be finely tuned to the extent you would find in the middle of the season, but we'll find out.
"It's a full-blown Test match we're being capped for and there's a responsibility to go out, play hard and win.
"With what's at stake, there's opportunities for guys to play to get in position for selection for the World Cup."
Paterson's personal chances are boosted by his versatility and he has been training at fly-half this week.
Edinburgh half-back Greig Laidlaw has been named on the bench to cover the number nine and 10 positions, but Paterson may also be required to step in at stand-off.
"It's something I've done before and at times I'll do again," he added
"I've focused on that this week as well as at full-back.
"If that's what asked of me I'll do as best as I can."