Johann Muller handed Ulster club captaincy for season
Last updated on .From the section Rugby Union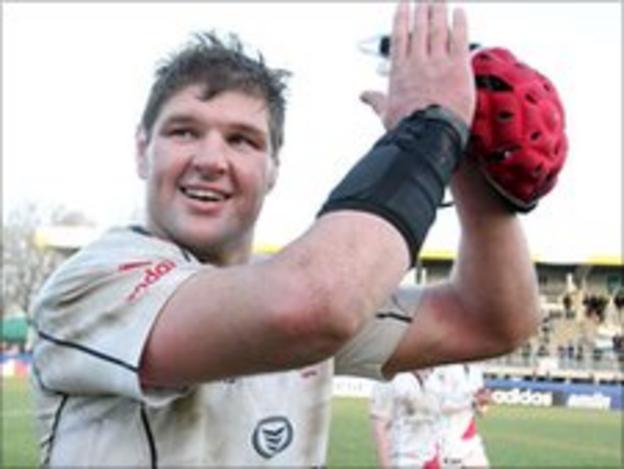 South African lock Johann Muller is to succeed Rory Best as the Ulster club captain for the 2011-12 season.
Muller impressed in his first season with the Irish province and has signed a one-year extension to his contract which keeps him with Ulster until 2013.
"I enjoy the leadership role and if I can do as good a job as Rory has done over the past four years I'll be a very happy man," said the Springbok.
"It's a great honour for me and I'm looking forward to a great challenge."
Muller joined the Ulster ranks at the start of last season and made 25 appearances for the side during a successful campaign.
At the end of the season, he was named Ulster Rugby Personality of the Year.
"It's going to be a tough season, with a lot of pressure and a lot of responsibility but I'm excited about that, and hugely honoured.
"If we want to be a successful side then we need to be better than last year, every single week and in every single thing that we do.
"The big challenge for me as captain, and for the whole squad, the management and the coaching staff is to make the step up."
Muller spent the last four weeks with the extended Springbok World Cup squad in preparation for the World Cup but returned to Belfast last week.
Originally selected as a replacement for the Boks' Tri-Nations match against Australia, he withdrew with a hamstring injury, but is on the mend.
"Injury-wise I'm feeling great - I'm starting to run again and although it will take a bit of time to get back to full fitness at my age I'm feeling great, really fresh and really looking forward to playing again."
Muller is unsure whether he will be included in the South African squad for the World Cup.
"If I don't get picked for South Africa again, if I don't get picked for the World Cup, that's fine with me.
"However, if I do get a call up that would be fantastic, and I would be honoured to go to another World Cup and play another game for my country," added the second row.