Warren Gatland hits back over Dwayne Peel row
Last updated on .From the section Rugby Union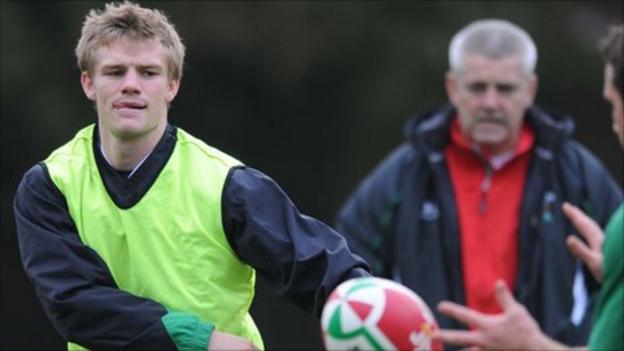 Warren Gatland has hit back at criticism of Dwayne Peel's omission from Wales' World Cup build-up.
The Wales coach dismissed Sale boss Steve Diamond's assertion that scrum-half Peel is fit enough to be involved.
Gatland also claims to have information from Sale's medical staff saying Peel was not taking a full part in training.
"So it was a bit disappointing to hear the [Diamond] comments," said Gatland, who says Peel could be called up if injuries hit his World Cup squad.
Peel, 29, has said he is fully fit, contradicting claims by Wales that injury has forced the Sale player out of their World Cup plans.
Diamond also described Peel as "fit as a butcher's dog".
The Wales coach says he has not spoken to Sale executive director of sport Diamond, a former England hooker.
Instead Gatland has liaised with Sale's new coach Tony Hanks, a former Wasps boss who was Gatland's assistant from 2005-08 at New Zealand province Waikato.
Gatland also hit out at media reporting of the row.
He said: "I think a couple of the articles in the last few days was typical shit-stirring of the Welsh media.
"And it was disappointing from my point of view and I wasn't asked on those questions.
"I haven't spoken to Steve Diamond personally because he has a hands-off role at Sale, not doing the day-to-day coaching - that's being done by Tony Hanks.
"And I've spoken to Tony on a number of occasions about his players, including Dwayne [and] Andy Powell.
"So it was a bit disappointing to hear the comments - I think it's been highlighted about Dwayne's unavailability to us.
"We did receive an email from the Sale physio on 8 August to say that he did have a problem with his hip, that he wasn't taking a part in contact during training and so we used that information to make our judgement at that stage not to have included him."
Gatland says he recently met Hanks in London to talk about Sale's Wales contingent and received a good report on utility back Nick Macleod, who joined the Avivia Premiership club from Cardiff Blues in 2008.
"I've spoken to him [Hanks], like I've said, on a number of occasions - I even spoke to him yesterday [Wednesday] about the Welsh players up in Sale.
"So yes he's been training, we know he's been training, but that hasn't been the concern with Dwayne.
"The concern that we've had with Dwayne has come in the past was one, has been his non-availability and two, is that he hasn't always been able to take a full part in training sessions.
"And the way that we've been training and the work we've done in the last couple of months - how physical it's been, a lot of contact sessions - there's always sometimes been that question mark about his fitness.
"Yes he's trained, but he hasn't taken a full part in training.
"That still doesn't mean that given that if there's an injury and experienced player like Mike Phillips gets injured that we wouldn't go to someone like Dwayne because we know about his ability.
"We also know that sometimes experienced players are able to come into a squad because of their experience and fit in easily."
Peel was barred from joining Wales' World Cup training camps in July as his club followed the English Premiership line of refusing to release Welsh players until 4 August.
Peel won the last of his 76 Wales caps as a replacement during the Six Nations defeat against France in March, having been omitted from the original squad.
His international appearances have been limited since he joined Aviva Premiership side Sale from the Scarlets in 2008.