Worcester Warriors skipper Pat Sanderson retires
Last updated on .From the section Rugby Union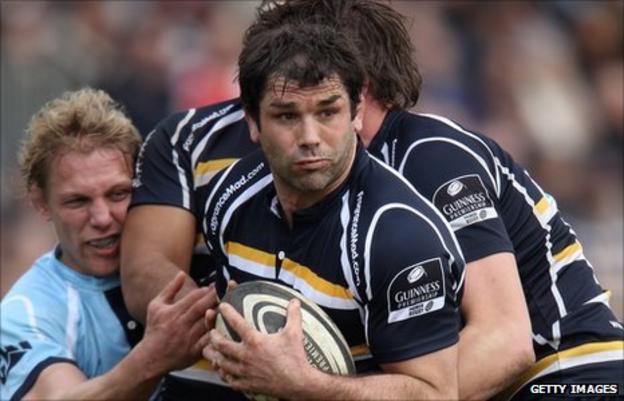 Ex-England and Worcester skipper Pat Sanderson has announced his retirement from rugby on the advice of his doctor.
Now the problem, inflicted during a match against Bristol in March, has brought his career to an end.
"I wouldn't say I'm in denial but it's very hard to give it all up," he told BBC Radio Hereford & Worcester.
"Rugby has been such an integral part of my life, and this club in particular, for such a long time it will be a massive hole to fill.
"I've known for a few days that my injury wasn't going to recover but it doesn't make it any easier, it's not sinking in."
Sanderson made his England debut against New Zealand in 1998 and won the last of his 16 caps in 2007.
He led the national side on the 2006 tour of Australia, in place of Martin Corry who was rested for the trip, and during the 2005 Churchill Cup tournament in Canada.
The Chester-born player started his career with Sale but enjoyed his greatest success at Sixways where he lead the side between 2004 and 2010.
During his first full season at the Midlands club he was nominated for the Premiership player of the season and Rugby Player's Association player of the year awards.
And although Sanderson had hoped to return to Premiership action this year, he admitted that his current shoulder injury had left him with little option but to retire.
"It was when I got to the six month point, where I am now, that I realised I was still miles away from playing rugby. I still can't pass a ball properly, and if I can't do that now, when I am I ever going to be able to make a tackle. I had to be realistic about it.
"The medical advice I have had has also been clear and concise and helped me make the decision."
He added: "I've got some business interests at home and some prospective job offers.
"But for now I think I just have to take a bit of time to bury this, because it sits very uneasily with me because I love the club, I love the players and I love playing rugby."