Saracens' Jacques Burger to lead Namibia at Rugby World Cup 2011
Last updated on .From the section Rugby Union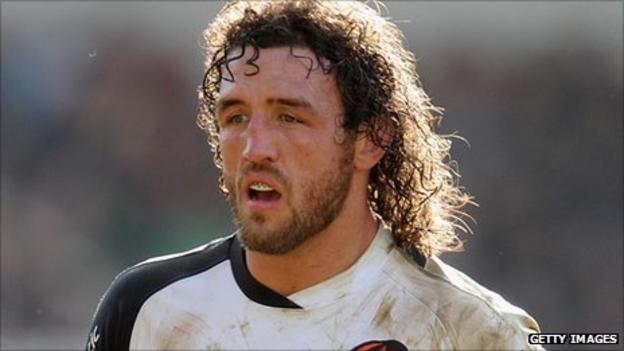 Saracens' flanker Jacques Burger will captain Namibia at the 2011 Rugby World Cup in New Zealand.
Namibia begin their campaign against Fiji on 10 September before games against Samoa and neighbours South Africa
They face Wales in their final pool match in New Plymouth on 26 September.
Namibia will be appearing at their fourth World Cup but have yet to advance beyond the pool stages.
Most of players are selected from clubs in Namibia and South Africa although scrum half Ryan de la Harpe plays for Moseley in England's Championship.
NAMIBIA RWC SQUAD
Forwards: Jacques Burger (Saracens, capt), Egbertus O'Callerghan (Wanderers), Nico Esterhuyse (Keetmanshoop), Hendrik Franken (Villagers), Hugo Horn (Unattached), Uakazuvara Kazombiaze (Reho Falcons), Rohan Kitshoff (Western Province), Heinze Koll (Wanderers), Raol Larson (Villagers), Pieters van Lill (Stade Aurillac), Jacques Nieuwenhuis (Stade Aurillac), Reaud van Neel (Namibia University), Tinus du Plessis (Wanderers), Johannes Redelinghuys (Wanderers), Johannes du Toit (Hamilton), Marius Visser (Border Bulldogs).
Backs: Johannes Bock (Reho Falcons), Chrysander Botha (Kudus), Hendirk Dames (Leopards), Darryl de la Harpe (Western Suburbs), Ryan de la Harpe (Moseley), Eugene Janjties (Farul Constanta), Theuns Kotze (Johannesburg University), Tertius Losper (Western Suburbs), Conrad Marais (Montpellier), David Philander (United), Llewellyn Winkler (Western Suburbs), Daniel van Wyk (United), Mcgrath van Wyk (Farul Constanta), Willem van Zyl (Bourgoin).