Optimism surrounds Newcastle Falcons squad
Last updated on .From the section Rugby Union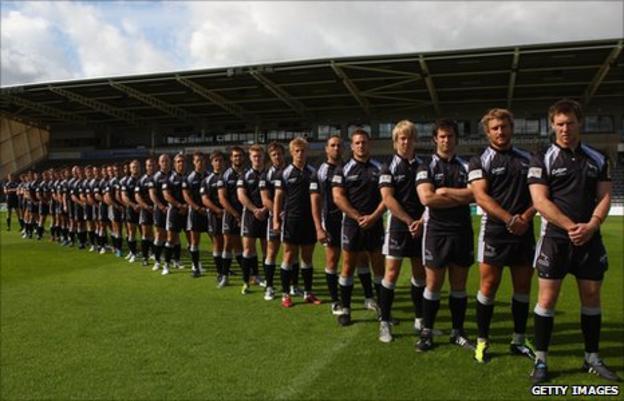 For Newcastle Falcons supporters the annual struggle against relegation from the Premiership has become something of an unwelcome tradition.
Last season's last-gasp scrape clear of the drop was the closest the Tynesiders have come to picking up the Premiership's unwanted accolade - the wooden spoon.
With Falcons eventually losing heavily at Bath on the final day, only a second-half Leeds collapse at Northampton was enough to save Alan Tait's side from dropping into the Championship.
"Last year was tough, and it did come down to a horrible day," captain James Hudson told BBC Newcastle.
"It's one of those days you can't put the feelings into words and there was a hangover. It took me a good couple of weeks to get over it.
"It was only when I was on a sunbed on holiday a few weeks later that I could smile and look forward to this year."
Three months on, much has changed at Kingston Park.
As players such as Tane Tu'ipulotu, Kieran Brookes and Micky Young departed, in their place new recruits arrived including former Auckland centre Jamie Helleur, Samoa flanker Taiasina Tu'ifua and England Under-20 scrum-half Jordi Pasqualin.
As with the dawn of every new term there is optimism in the air, but head coach Alan Tait has worked hard this summer to assemble a squad that can avoid the struggle of recent times.
"The guys I've brought in now are my players, when they go out on the field I know they're my players," Tait said.
"That's a real head coach's job to assemble a team and get the selections right.
"With the variety of players that I've got I can definitely change the game plan, especially when Taiasina comes in.
"Going by first glimpses, you can't hide class, and Jamie Helleur and Greg Goosen have been the two stand-out backs.
"Jamie's got a real vigour in his defence, he puts massive hits in, he rattled a few Glasgow boys [in the friendlies] and that can only help in the Premiership.
"Hopefully guys like Luke Eves and James Fitzpatrick can watch and learn from him."
Falcons have been busy in preparation for the new season, winning the Premiership Sevens as well as undertaking friendlies against Glasgow, Leeds and Edinburgh in readiness for the Premiership rigours.
However expectations are being carefully managed; the struggles of previous campaigns are still fresh in the mind.
"We're a year older, and a lot of lads learned from that experience, we don't want to put ourselves in that position again," Tait added.
"If you get that start and you're in there early, then it does carry you through and you get away from being nervy.
"We've worked hard in the off-season, we know we want to perform early doors in these first six-to-eight games and if we get the wins we're aiming to get then I'm sure we can relax, and really become a force and go for that sixth place.
"That's the important part, getting that start and not becoming nervous, That's why you can't go on too much about doing this and doing that because if you don't win those games then what do you do?"
For the players there is also a sense of confidence that the club can end their disappointing streak, but there are no long-term targets at Kingston Park.
"I'm excited now, I do believe we can perform much better and not put ourselves in the positions we did last season," Hudson said.
"We were our own worst enemy at times last year, and we've got more ability in a lot of areas this year to get away from that.
"I'm somebody who believes you can fall into the trap of saying we're going to finish here or there.
"We put goals in place for how we perform each week, and we believe if we meet those targets we will win games and put ourselves in position to win games."