Northampton Saints post record £13m turnover
Last updated on .From the section Rugby Union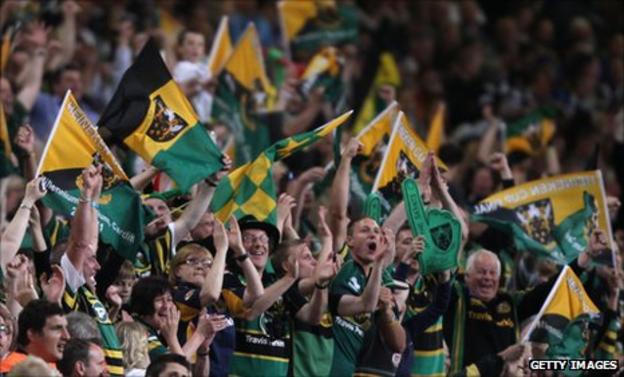 Northampton have announced a record turnover for the last financial year.
Saints made £801,314 profit for the year ending 31 May 2011, which was up from £526,702 in the previous 12 months, and turned over £13.175m.
It is the 11th consecutive year Northampton Saints Plc, the club's holding company, has been able to announce a profit.
On the pitch last season Saints reached the Premiership play-off semi-finals and Heineken Cup final.
"Success on the pitch is inextricably linked to results off it which helps to explain our record turnover and in turn justifies the board's decision to spend up to the Premiership Rugby salary cap ceiling," said chief executive Allan Robson.
"This outstanding, and continuing, financial performance also reflects the hard work put in by the staff at Franklin's Gardens, as well as the commitment of the club's sponsors and supporters, and it would not be possible without all of these factors."
The Saints filled their Franklin's Gardens stadium, which can hold 13,500 spectators, by 98% of the capacity on average last season, and had to arrange a Heineken Cup fixture at Stadium MK, in order to attract a larger crowd of 21,309.
The club has plans to expand the capacity of their ground, and are in talks with Northampton Borough Council about making that a reality.
Leon Barwell, who is set to take over from Keith Barwell as chairman later this year, added: "We must not rest on our laurels.
"We are progressing our plans for the continued expansion of the ground and it is crucial that we continue to grow our revenue streams in all areas to support our aspirations."