Ospreys: Galacticos era over says boss Andrew Hore
Last updated on .From the section Rugby Union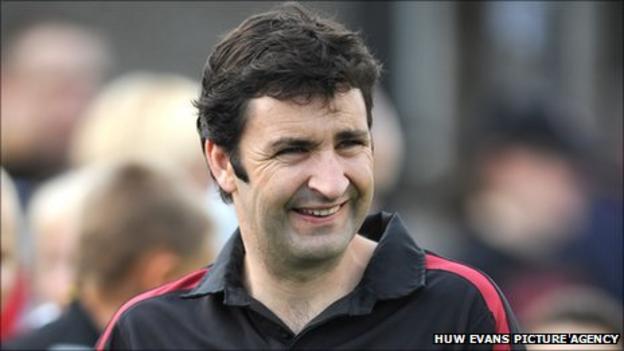 Ospreys boss Andrew Hore says they should no longer be regarded as 'Galacticos' following a culture shift after the departure of some big-names.
New Zealanders Jerry Collins and Marty Holah have also departed and Hore says the team will have a fresh mindset going into the new campaign.
"It's [the team atmosphere] changed demonstratively," said Hore.
"I think potentially some of them [departed players] weren't happy because of the fact that we didn't go down a Galacticos route so it wasn't all about them.
"It was about this region and this team. So I feel we're over that hump."
Wales centre Gavin Henson also left last season, but could be on his way back to the Liberty Stadium and Hore was speaking before BBC Sport Wales revealed the player has been in talks about a possible return.
The Ospreys chief operation officer said other big names such as Jonathan Thomas, Ryan Jones and Alun Wyn Jones are there "for the good of the region" as are centre Ashley Beck and back-row recruit from Newport Gwent Dragons Joe Bearman.
New Zealander Hore, Wales' former conditioning coach, also underlined the ethos the Ospreys are trying to develop.
During pre-season the squad played Lyon at an old-fashioned club on the Swiss-French border and the players raised their own funds for a training camp in Cornwall.
Hore added: "I'm pleased to say that the Galactico's [description] gone and we're probably more representing where we're from than we ever have and having to run a race night to raise your money to go on your team trip is [an indication of that].
"We're trying to reinstate a lot of the older club values that used to be around and still are at club level.
"Why should we lose it just because players are paid?
"Being a professional is about the way you act, not necessarily what's in your bank account.
"And we've lost that in professional sport, particularly in professional rugby, I think, in Britain and we're trying hard to counter the balance."
Hore says the Ospreys' current squad is selfless, adding: "They're giving of themselves and they're not being selfish so I'm really pleased.
"It's been a quantum step and yes, that will make people uncomfortable if they don't buy into that kind of ethos.
"That's fair enough. There's other clubs that can potentially offer those people what they desire in sport and they should have every right to be happy themselves as well."