Rugby World Cup 2011: England arrive in New Zealand
Last updated on .From the section Rugby Union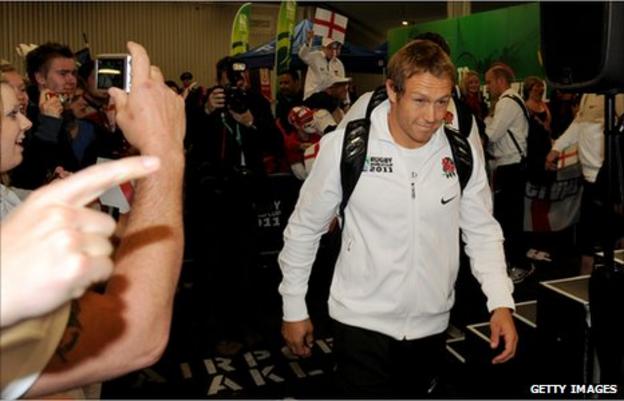 England arrived in New Zealand for the World Cup on Wednesday, with Martin Johnson declaring that the tournament had been "a long time coming".
"You're talking about it for years and years beforehand, but we're finally here," added the England boss.
England have 10 days to acclimatise before their first game, against Argentina in Group B on 10 September.
They will spend the next few days in Auckland before travelling south to their base in Dunedin.
In addition to the Pumas, they will also play Scotland and minnows Romania and Georgia in their group.
Johnson, who captained England to victory in the 2003 World Cup, said: "We're looking forward to spending a few days in Auckland to recover and get over the trip, and then get down to Dunedin next week."
More than 100 fans turned out before dawn in Auckland to greet a weary England squad who signed autographs for the supporters, with fly-half Johnny Wilkinson the crowd favourite.
They were given a traditional New Zealand welcome by a Maori cultural group that performed the haka for the team.
Johnson also confirmed the squad will make a goodwill visit to Christchurch before the start of the tournament.
The city was due to host England's pool matches against both Argentina and Georgia before it was devastated by an earthquake in February which left 181 people dead and the fixtures were subsequently moved to Dunedin.
The England manager said of the scheduled visit: "The whole England squad was shocked by what took place in February and we wanted to show our support for the people of Christchurch who are getting back on their feet following such a tragic event.
"We know how keen they were to play a role in the Rugby World Cup and we were looking forward to being based there.
"I'm delighted that we'll be able to visit and pay our respects shortly before the tournament gets under way."
The World Cup begins on 9 September with the final at Eden Park, Auckland, on 23 October.