Rugby World Cup 2011: Gareth Jenkins advises Warren Gatland
Last updated on .From the section Rugby Union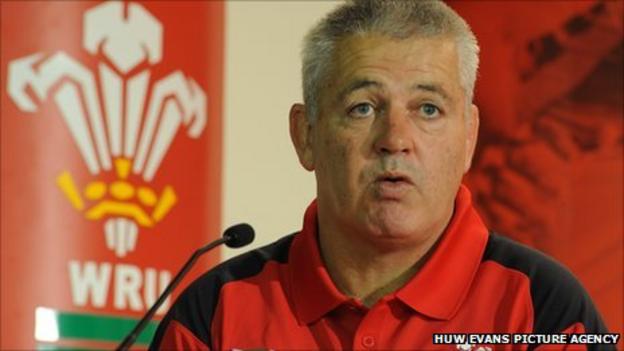 Coach Warren Gatland has revealed he has spoken to Gareth Jenkins to learn the lessons of the last World Cup.
Wales have departed for New Zealand but not before Gatland had spoken to Jenkins and his assistant in 2007, Nigel Davies.
"It did help having a few conversations with them about their experiences four years ago," Gatland said.
"I've spoken with Gareth and Nigel about some of the things they had done four years ago and things they would do different in terms of preparation and selection.
"Obviously they made a few mistakes [and] they would do things differently I'm sure. We all learn from past experiences."
Wales crashed out of the last World Cup after a 38-34 defeat against Fiji in Nantes, a result which cost Jenkins his job.
Fiji will be among Wales' Pool D opponents in New Zealand along with world champions South Africa, Samoa and Namibia.
New Zealander Gatland has been happy with his side's preparations with included two wins during the three August warm-up matches.
"We've got to be excited about going to New Zealand," said Gatland. "We've got to be going there with a lot of confidence.
"I know the guys are really keen and motivated to do well out there and we'll give it our best shot.
"It's the pinnacle of anyone's rugby career, as a player or coach, to be involved in a World Cup.
"These players have worked incredibly hard towards it. From a coaching point of view it's been great having them together for the past couple of months.
"It's meant we've been able to work on a lot of specifics that you don't get opportunities when you only come together for a couple of weeks for the November or the Six Nations. That's made a big difference to us.
"This is the fittest squad I have been involved in and as long as we do not pick up too many key injuries, we have a chance.
"For me, going back to New Zealand is a huge honour and hopefully to be able to take this Welsh team to do Wales proud."
Wales face South Africa in their opening game on 11 September in Wellington and Gatland is happy to begin the campaign against the World Cup holders.
"I think getting South Africa first is really good," said Gatland.
"I wouldn't want to be playing them last in the group as a decider with referees starting thinking about getting quarter-final matches.
"We know we've pushed them close in recent encounters and we've just got to get over the line.
"It's going to be tough but you've got to go there with confidence and putting out our best side to get a performance and a victory.
"We're probably fairly secure about a number of positions. There's still obviously a few injury concerns that we need to debate.
"We're not too far away from what we have in our minds as the starting 15 for South Africa."