Leeds Carnegie centre Lachlan MacKay has second shoulder surgery
Last updated on .From the section Rugby Union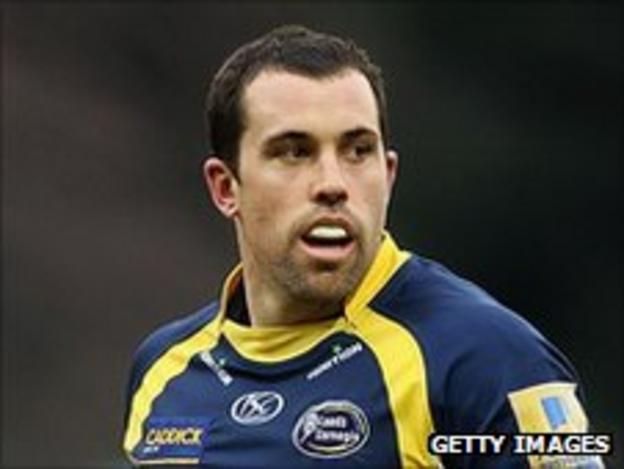 Leeds Carnegie's Lachlan MacKay has been ruled out until December following another shoulder operation.
The Australian centre underwent surgery for the second time in three months in the hope of finally solving the long-standing problem.
Head coach Diccon Edwards revealed the news to BBC Radio Leeds and said: "It's to tidy up the previous operation.
"We are confident this will work but it means he will be out for longer than originally planned."
MacKay has endured an injury-plagued time since arriving at Headingley in July 2010, managing to feature in just 15 games for Leeds to date.
Edwards added: "It is a frustrating time for him, but he is an excellent professional.
"He will be back and when he is I'm sure he will play a key role for us."
Edwards also confirmed that fellow long-term injury sufferer Danny Paul should return to action by the end of September.
There is also good news for James Tincknell. The young centre has not played since suffering a life-threatening car crash in February. However, his quick recovery means the centre could feature soon, just seven months after coming out of a coma.
"James has put in fantastic effort and in the past few weeks we have seen vast improvements in him physically, mentally and confidence wise," explained Edwards.
"It has given the club a massive boost to see him regaining the qualities he had before the accident.
"If he continues to make the same big strides in the next few weeks then we would hope to see him back playing in the next three to four weeks.
The new Leeds boss has also revealed their plan to sign Sale Sharks scrum half Will Cliff on dual registration has fallen through.
However, Edwards is already in discussion with another number nine and is hopeful of signing him by the weekend.
Although, any new signing would not be available to play in the opener against London Welsh on Sunday.
Leeds fans can listen again to a special West Yorkshire Sport Daily on BBC Radio Leeds with Leeds head coach Diccon Edwards via the BBC iPlayer at http://www.bbc.co.uk/iplayer/console/p00jrd12 .