World Cup 2011: Kidney wants players to enjoy NZ trip
Last updated on .From the section Rugby Union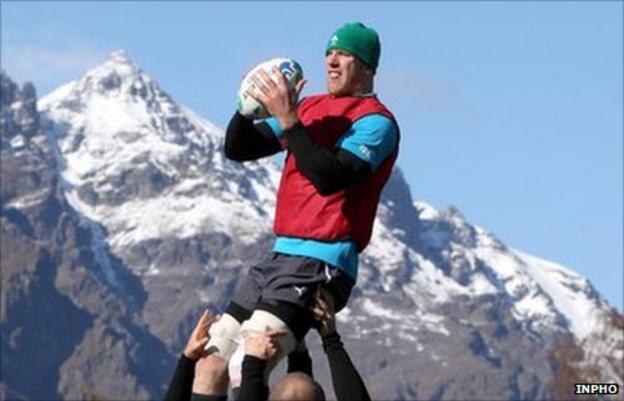 Ireland coach Declan Kidney wants his players to have an enjoyable off-field experience at the upcoming World Cup in New Zealand.
The Irish side's disastrous tournament in France in 2007 included suggestions that boredom at the team's Bordeaux base had not helped squad morale.
However, Ireland will be based in the spectacular city of Queenstown for the early part of this year's competition.
"There won't be any lockdown," said the Ireland coach.
"It would be awful to come to Queenstown and not see it properly," added Kidney after surveying the snow-peaked backdrop of Queenstown.
The city is known as the adventure sports capital of New Zealand and while the likes of white rafting and snow boarding are off limits, the players will be allowed to do their fair share of sightseeing.
A noisy gathering of over 500 supporters greeted their arrival at Queenstown airport and the Irish will hope to benefit from the change of scenery after slumping to four successive defeats in their warm-up Tests.
"It's a smashing spot. The way our matches are, this World Cup is more like a tour. Queenstown is as good a place as any to start," added Kidney.
"When we landed and were hit with that reception, we knew we were in the biggest rugby tournament in the world. It was a special occasion.
"The backdrop we were playing against today is not something you see too often - it was pretty spectacular."
Ireland's campaign opens against the United States in New Plymouth on September 11 and continues with clashes against Australia, Russia and Italy.
Captain Brian O'Driscoll is continuing to insist that morale remains high despite the consecutive warm-up defeats by Scotland, France (twice) and England.
"I don't think we necessarily needed to put a spring in our step. We feel confident and we're looking forward to the games," said O'Driscoll.
"We're not bringing any scars from the last month with us. It's all about the start of the World Cup."
O'Driscoll's centre partner Gordon D'Arcy will join up with the squad in New Zealand on Monday after his departure from Dublin was delayed on medical advice.
D'Arcy sustained a calf injury in training on Tuesday and his availability for the USA match will be assessed next week.
Cian Healy may not be ready for the opener against the USA on 11 September because of the damage sustained to his eye socket against England.