RFU chief Martyn Thomas survives no confidence vote
Last updated on .From the section Rugby Union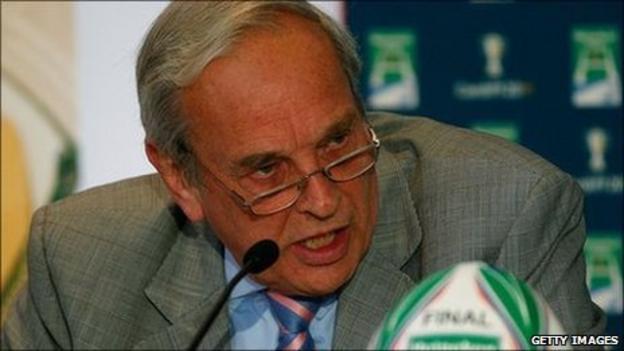 The Rugby Football Union's (RFU) acting chief executive Martyn Thomas has survived a vote of no confidence.
The vote came after a long-running saga surrounding the sacking of former chief executive John Steele.
A report by RFU disciplinary officer Judge Jeff Blackett into the affair will be published by 30 September.
"The report will be out in the public domain, now everyone has agreed it can be published," said Paul Murphy, newly appointed permanent RFU chairman.
"We recognise there have been a few mistakes but we need to move on."
Thomas, who took on the role of chief executive following Steele's departure in June, stood down as chairman in July and has been under pressure for most of the summer over his role in the affair.
Blackett was asked to investigate Steele's sacking but when his report was finished Thomas, who was heavily criticised, threatened legal action if it was published publicly.
Thomas has now withdrawn that threat and former acting chairman Murphy is confident no legal action will be taken.
"There is no pending legal action. We will produce the report by the end of September," Murphy said.
Among the other issues discussed by the council, it was announced that an independent director would be added to the board, that an independent auditor would be employed to look at RFU corporate governance, and that a new chief executive should be appointed by Christmas.
Steele, and the Union's board, received strong criticism for their handling of the recruitment of a performance director - a role which is now likely to be scrapped.
Sir Clive Woodward, who won the World Cup as England coach in 2003, was favourite for the job but ruled out a return to the RFU in May as reports emerged of a boardroom power struggle at Twickenham.
Blackett undertook a comprehensive review of the recruitment process after the debacle and is thought to have recommended that the RFU board resign.
Murphy says the members of the board have accepted Blackett's review but have no intention of resigning.
"No, none whatsoever," he insisted.
"There is a statement from everyone saying they accept the recommendations. We hope this is the beginning of closure of this issue now.
"We want to be focused on supporting the England team in New Zealand at the World Cup."
In a move similar to that adopted by the Football Association's new chairman David Bernstein, the RFU hope to appoint non-executive directors to their board from outside the rugby world.
Murphy said he was sure they would be "of the highest calibre and will be of huge benefit with regard to our corporate governance responsibilities".