Rugby World Cup 2011: Wales fitter than ever says Garin Jenkins
Last updated on .From the section Rugby Union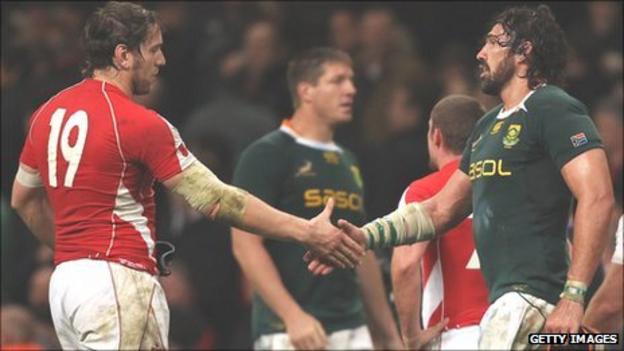 Former Wales hooker Garin Jenkins, capped 58 times by his country, looks at Wales' pack ahead of Sunday's World Cup opener with South Africa in Wellington and assesses the impact of injuries to hooker Matthew Rees and prop Gethin Jenkins.
Matthew Rees had been in exceptional form for Wales before his injury, he's been a great leader, a surprise package as a leader. He's been fantastic.
Richard Hibbard then getting injured against Argentina was such a blow because he'd fought so hard to get back.
He's another nuggety character that we would have benefited so much by his abrasiveness against the Springboks, because if we look back to when he had his first Tests out in South Africa he was the one Welsh forward who really took it to the Springboks.
Each one of the three other hookers are a work in progress.
Lloyd Burns has come in, he's very steady... a solid man, a big-framed man.
Ken Owens is very dynamic in the loose... will really show up in open play and hopefully if he is tested in the set piece then the likes of [props] Paul James and Adam Jones will come together collectively and aid him in that aspect.
Huw Bennett has been there a long time now and he's been pretty steady the last couple of games, he's done OK against England, did his job, showed up a bit more prominently in the loose.
He's 'Mr Dependable' I think; Huw will be in there as a 'Steady Eddie' type of player and he will surely impact at some point during the World Cup.
Paul James has been an exceptional stalwart of the Wales front-row, came in through injury for Gethin Jenkins but has proved an invaluable member of Warren Gatland's squad.
He's shored up the scrum on the loose-head and on the tight-head, and he's got better the more international rugby he's played.
Craig Mitchell is maturing every game; he's had some challenges in the set piece area but... he'll stick at it and he'll come through the other end.
The set-piece for Wales, we've been in front of a lot of the Six Nations teams and it's something that people may not see from the outside, but it's part of the game Wales have that we can really take it to the Springboks.
They may be a little bit vulnerable in certain areas of set-piece, I think we're far more intelligent in that area than them.
The hooking options for South Africa, Bismarck du Plessis and John Smit, I've had the pleasure of playing and meeting both players and they're two remarkable characters.
Maybe John Smit is at the back-end now of his rugby career and I think Du Plessis may be the option for them, because he's a remarkable, fit, athletic player - a farming background and very much a man with his feet firmly on the floor.
Let's hope we can change that somewhat when we play against South Africa!
The biggest challenge for our line-out will be against South Africa, you're playing against the best line-out in the world.
Offensively and defensively they really go at your line-out and they really cause mayhem for the thrower-in.
They're so quick on their feet, so quick in thought and it's one area of the game that [Victor] Matfield and company really pose problems.
It's going to need pinpoint accuracy from the hookers but also speed off the floor for our jumpers and speed of thought for the lifters.
But the one thing that has really been prominent over the pre-World Cup friendlies has been Wales' absolute peak condition.
Wales are looking fitter than I've ever seen a Welsh team looking: they look stronger, very abrasive.
It was visible against England and the training, the mindset, whatever the management have done through this preparation period, I think Wales are in the best condition that they possibly can be.
Garin Jenkins was speaking to BBC Sport Wales' Bruce Pope.