Rugby World Cup 2011: Leigh Halfpenny wants to 'own the sky'
Last updated on .From the section Rugby Union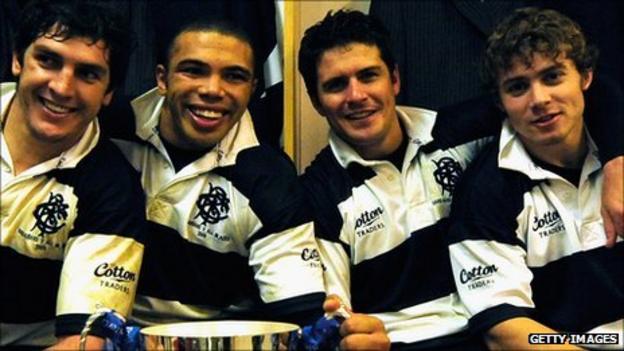 Leigh Halfpenny hopes to "own the sky" if he faces South Africa in their opening World Cup clash in Wellington.
Halfpenny has been training at wing and full-back ahead of Sunday's game.
"I like to look at it as owning the sky. Every time that ball goes up in the air I look to win that ball back," said the 20-times capped Cardiff Blue.
"And we do a lot of work on that. I've been working on that as a big part of my game and it's a big strength, hopefully, of mine and there's a big job to be done there."
Halfpenny made his debut against South Africa in Wales' 15-20 defeat and went on to play alongside some of Sunday's opponents when the Barbarians beat New Zealand at Twickenham in 2009.
Springboks wing Bryan Habana scored a try hat-trick that day while Halfpenny came off the bench to play his part.
On Sunday Habana will be attempting to set a South Africa try-scoring record of 39, needing one touchdown to pull away from legendary Boks scrum-half Joost van der Westhuizen.
And Halfpenny expects that the 2007 champions will stick to a tried-and-tested kicking and pressure game that has served them well throughout the game's history.
"There's a lot of chasing, a lot of regaining possession and we have to be strong there," said Halfpenny.
The 22-year-old has played mostly on the wing for Wales, but he replaced full-back Lee Byrne against the Pumas as he completed his recovery from an injury that disrupted his 2010-11 progress.
"I loved it back in the 15 position against Argentina," said Halfpenny.
"It was great to get a chance to go back there for 20-odd minutes and [I'm] obviously running in both positions in training and stuff.
"And whichever position I'm picked in or have to switch into or involved in, I'm happy to do both.
"As long as I've got that jersey on I don't care what the position is… or as a replacement.
"I just hope to get the chance to do the business on Sunday."
Halfpenny describes Habana as a fantastic player, but the Welshman believes his own pace can also threaten the Cup-holders.
"Counter-attacking has become a big part of the game and obviously I'll try to get in positions where we can attack effectively and we've got to respect their chase," he said.
"And whether we choose to put it back up in the air or run it is depending on what's in front of us.
"We know our roles in counter-attack and hopefully we can use some of my pace to get us in good positions."