Rugby World Cup 2011: O'Gara says Irish can regain best form
Last updated on .From the section Rugby Union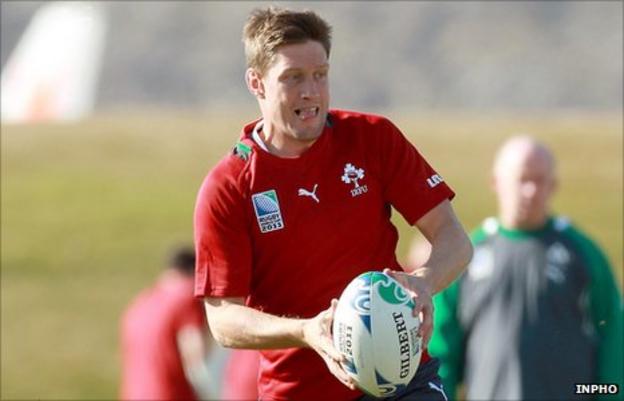 Ronan O'Gara believes Ireland can regain their best form at the World Cup despite the team's worrying build-up to the tournament.
The Irish lost all four warm-up games last month but O'Gara says the team's arrival in New Zealand has led to a renewed and improved focus.
"During the warm-up games we were mentally off-pitch," said O'Gara, ahead of Sunday's opener against the USA.
"Since we've arrived here I've noticed a difference in attitude."
O'Gara added: "Maybe we viewed the warm-up games as trials while other countries saw them as full-on Test matches.
"There's no panic in the camp.
"We're not denying that we wanted to win those games but at this level you have to be at fever pitch.
"We weren't and it's important we are during the World Cup. That should bring out the best in us."
Irish winger Tommy Bowe believes that the spectacular surroundings of initial squad base Queenstown have helped to revitalise the players ahead of the tournament.
"We've really been enjoying it here. It's a great spot. The training facilities are great," said the Ospreys winger.
"It's a great place to go for a coffee or a wander. The luge has been my favourite activity so far.
"There were almost a few broken bones and a few boys knocked out of the World Cup!
"It was a good crack, a bit of fun and a diversion.
"The boys are enjoying themselves and a happy team off the pitch leads to a happy team on the pitch."
Ireland hooker Rory Best believes the USA will be hugely motivated heading into Sunday's opener with the game taking place on the 10th anniversary of the 9/11 attacks.
"September 11 will be a momentous day for them. They'll be charged," Best said.
"The first 10 minutes will reflect that and we must make sure that, at worst, we're able to match their physical intensity."
The USA are led by former Ireland coach Eddie O'Sullivan who knows more than most about this group of Irish players.
O'Sullivan coached Ireland when they performed dismally at the 2007 tournament after struggling to beat Georgia and Namibia before exiting at the pool stage.
"He's probably got a lot of inside knowledge on the way our guys like to play and I'm sure he'll be tipping his team off to our strengths and weaknesses," added Geordan Murphy.
"We've got to do our homework on those guys and give them the full respect that they deserve."