Players setting targets for Scotland
By Rhona McLeod
BBC Sport Nation
Last updated on .From the section Rugby Union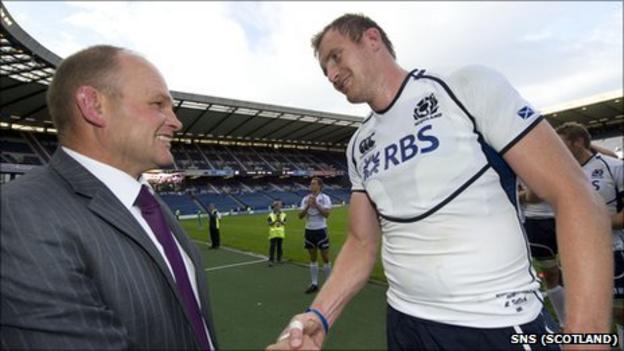 Scotland head coach Andy Robinson has revealed that it's the players who are setting the target of what they can achieve at the World Cup.
Scotland begin their campaign in New Zealand on Saturday 10 September against Romania in Invercargill.
Speaking at the players send-off dinner, Robinson said, "The players are setting the target for themselves.
"The key aims are to enjoy the challenges of every game and to respect the opposition we are playing against."
Robinson admitted, "If we underperform, all the teams in our group can beat us.
"We must focus on the games and get into a winning mentality. We must work hard to get to the top of the group."
However, Scotland captain Alastair Kellock was reluctant to reveal exactly what the players have decided will be their target in the competition.
"We won't jump ahead of ourselves, we'll make sure we play well in every game," he said.
"And if we play well in every game we'll see - I'm quietly confident but that's all I'm going to say."
Kellock has described his captaincy as a "massive honour," and has confidence in the squad's potential.
"This is the best squad since I've been involved going back six or seven years - you can see that in the competition for places.
"We managed to make 14 changes between the Test matches and the warm-up internationals - in that, you can see the strength and depth."
The veteran of the squad is 33-year-old full-back Chris Paterson, who becomes the first Scot to play in four World Cups.
Paterson says it was a massive relief for him to be selected.
"It's a big goal to reach my fourth Rugby World Cup - a huge relief for all the effort and hard work to make it into the 30-man squad."
And how will this World Cup compare to the three before?
"1999 was a Welsh World Cup but we played our games at Murrayfield.
"2003 was in Australia, which was a fantastic occasion. On a Monday night we played against the USA in Brisbane and had a crowd of over 45000, the country just really got behind it.
"2007 the French World Cup was really intense, we really enjoyed it, but again, we played some games at Murrayfield, so it loses its edge.
"And now we are away for hopefully nearly two months, to a country that's steeped in rugby history, so we'll be surrounded by really intense rugby people.
"But we are there to do a job and to enjoy it and hopefully do well for Scotland."
While Robinson has not set the target of how far Scotland can go in this competition, he does know what will make him a happy man at the end of it.
"If we can play to our true potential then I'll be happy," he explained.
"We have a passionate group of players and they want to go out and perform well for their country."