Scotland squad arrive in New Zealand for World Cup
By Jim Mason
BBC Scotland rugby reporter
Last updated on .From the section Rugby Union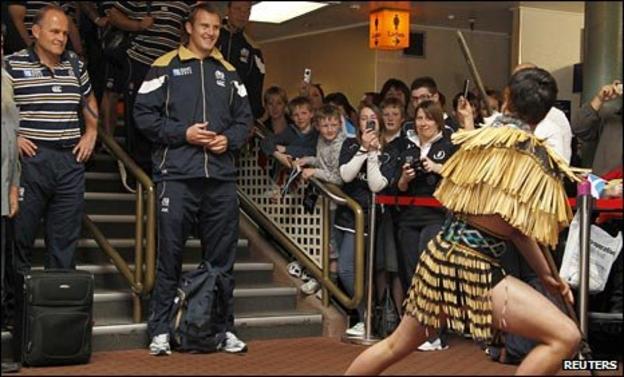 Unlike the weather, the welcome was warm.
Scotland touched down on New Zealand soil to be greeted by several hundred admiring Kiwis packed into Invercargill's small airport terminal.
A lone piper met the squad as they disembarked and there was a short Maori welcoming ceremony.
For many in this small southern city, the arrival of the Scots has signalled the start of the 2011 Rugby World Cup proper.
The city of Invercargill has many Scottish connections, not least of which are its streetnames.
Gala Street sits comfortably alongside Jed Street while Kelvin Street connects with Tay Street.
And it doesn't end there.
There's a pipe band, a Scottish Hall - and quick a look at the local telephone directory illustrates just how deep the connection with Scotland is.
Captain Alastair Kellock had the honour of accepting the key to the city and to respond to the address by a community leader.
Kellock said of the welcome: "To come down those stairs was probably the most intense feeling I've experienced off a rugby park and I'd like to say a massive thank you.
"Many of us have been to Invercargill before and we know that there will be many things here will remind us of Scotland - it's great to see a piper, but probably the most obvious one I'm talking about is the weather.
"We are hugely proud to be your guests for our first two games and like you, I'm sure, are raring to go, wanting the World Cup to get started.
"It's been a long time in preparation for us as well.
"I'm hoping to see you all at a packed out Southland Stadium on Saturday.
"Thank you very much for your hospitality."
The Scots will play two games in Invercargill and Andy Robinson will name his team on Thursday for Saturday's encounter with Romania.
Next Wednesday it's the turn of Georgia.
Scottish Rugby Union has always maintained it's their aim to get the population of New Zealand adopting the Scots as their second team.
If the welcome in Invercargill is replicated across the rest of the country, that ambition may be achievable.
In contrast, the Romanian team also arrived today, but their welcome was considerably more low key.
However, the Romanians maintain that they have nothing to fear from the Scots and believe that Robinson's team will not present as stiff a challenge as Argentina or England.
But one thing is certain - a Scottish victory on Saturday would be celebrated with as much gusto here, in the Commonwealth's most southern city, as back home.