Rugby World Cup 2011: Wales should ignore recent games - Dick Muir
Last updated on .From the section Rugby Union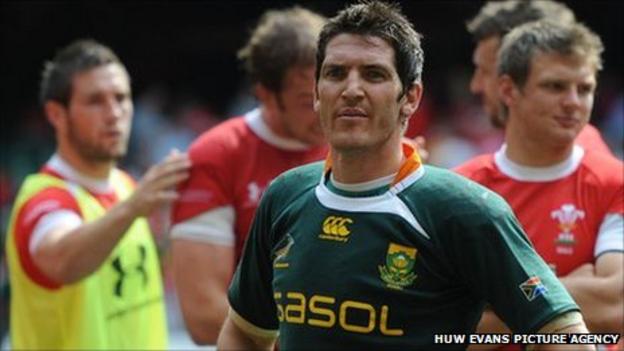 South Africa assistant coach Dick Muir says Wales should not base hopes for Sunday's clash with the world champions on recent encounters.
"We've been over there [Wales] with a bit of an under-strength side at times, although you wouldn't want to say that.
"But we've left a few players behind," said backs coach Muir.
"End of year tours are one of those areas where you've had guys that have had a long year and sometimes you do leave players behind because of fatigue or injury."
In those encounters Wales outscored the Springboks 3-2 in tries in the November 2010 25-29 loss and were level 3-3 in the 31-34 defeat that preceded it in June.
But backs coach Muir says while scoring more tries is desirable, winning is the priority.
He said: "You always want to score more tries, but it's more about winning games than just scoring tries and it's a team effort so we have looked at wanting to score more tries, but the result's the important one for us.
"If you have a look at the last six World Cup finals only nine tries have been scored so it's down to pressure and it's down to opportunities and the higher level that you get the less opportunities that are available to you.
"You'd love to be scoring tries and playing a more flamboyant style, but it's about winning at the end of the day.
"Nobody remembers the tries - it's just about the winning."
Wales have beaten South Africa once in 25 Tests since 1906 and the Springboks also face Fiji, Samoa and Namibia in Pool D in New Zealand.