About a Samoan boy... named Wales
Gareth Roberts
BBC Sport Wales
Last updated on .From the section Welsh Rugby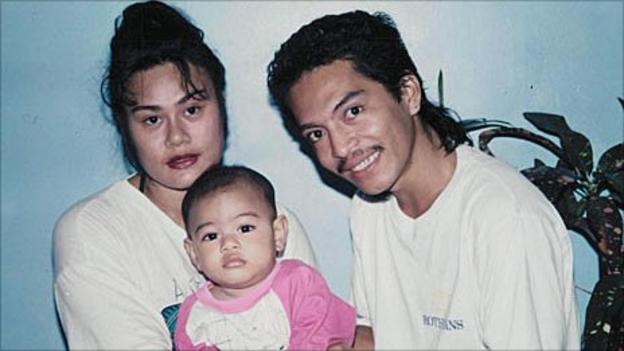 Brooklyn Beckham move over, and eat your heart out anyone who has been given the name of an entire sports team.
When it comes to names linked to anything to do with sport, a boy born in Samoa must surely take the prize, the glory and biscuit.
The birth, however, of Wales Manu Samoa 9-34 Moamoa Gale will bring back painful memories for the Welsh team that toured the South Pacific in 1994 and who took on Samoa in the trip's last Test.
It included such luminaries as former world record points-scorer Neil Jenkins, one-time most-capped Welsh forward Gareth Llewellyn, wing legend Ieuan Evans and number eight great Scott Quinnell.
Among the massed ranks of Samoa were Brian Lima, who would go on to play in a record five World Cups, inspirational prop Peter Fatialofa, Leicester favourite Fereti Tuilagi and outstanding flanker Pat Lam.
If the Samoans' bruising tackling was not enough, the Welsh also had to deal with temperatures over 100 degrees Fahrenheit.
Small wonder then that scrum-half Rupert Moon's tireless approach ended in him collapsing with heat exhaustion at the end of the game.
And at one point fly-half Jenkins gathered the ball and was so disorientated by the conditions that he ran towards his own posts.
Samoa created another slice of their own rugby history that day at Moamoa field, winning 34-9.
But while the game was under way on the main island of Upolu, in a small village called Sapapalii on the second island of Savai'i that boy with the special name was born into a rugby-loving family.
His grandmother, Sia Gale, takes up the story: "While we were cheering the Manu v Wales at Moamoa field, my [late] daughter-in-law (Talaleu Papalii) gave birth to a boy.
"My son (Kirk Faatupuloto Gale) called us and relayed the good news after the game, so I automatically told him to name my first grandson after the Manu Samoa v Wales game.
"So my grandson's name is Wales Manu Samoa 9-34 Moamoa Gale.
"It is a historical event because the game was being held at Moamoa field while Apia Park was upgraded after being damaged by the Ofa and Valelia cyclones of 1991."
Now 17 years old and studying science at the National University of Samoa with the hope of going on to win a scholarship abroad, Wales is proud of his name.
That pride comes from the family's belief that Wales is the only Samoan to bear the moniker of a historic rugby victory, even if one of Wales' players that day in 1994, lock Llewellyn, is familiar with some islander-naming traditions.
Llewellyn said: "I've heard a story about a guy, who played his first game for Samoa against Bridgend and while he was away on tour his first son was born so he named him Bridgend.
"So it's obviously a very Samoan thing to do."
Sia explains why Wales' christian names are not Manu Samoa: "Manusamoa is a title from a village in Upolu, so I put Wales first and then Manu Samoa."
But Wales Manu Samoa 9-34 Moamoa Gale may have a dilemma when the two nations meet in the World Cup in Hamilton on 18 September.
The boy Wales supports Wales most of the time, according to his grandmother, who wrote: "I can't see any rugby blood in him, but he loves watching and cheering a Wales game."
But with five brothers, and a father who helped build their village's own rugby pitch while he was growing up, it would be understandable if on this occasion Wales backs his homeland.
He has another reason to do so - Wales' father Kirk once coached Manaia Salave'a, an as-yet uncapped Narbonne flanker in the Samoa World Cup squad who is hoping to rattle Welsh bones once more in Hamilton.