Fylde prop Pete Altham prepares to face brother Joe
Last updated on .From the section Rugby Union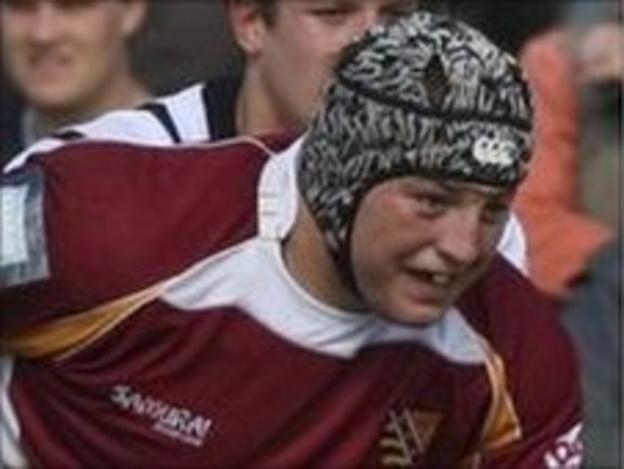 Fylde prop Pete Altham says that Saturday's National League One clash against Wharfedale will be an extra special family occasion.
The 22-year-old, who is deaf in both ears, will come face to face with his younger brother Joe.
"I'm sure my parents won't like watching it, with us both playing," he told BBC Radio Lancashire.
"This is the first time I've played against my brother and it'll be a little weird."
Altham, who has representative honours for Yorkshire at Under-20 level, is a member of both England's deaf squad and the Lancashire senior side.
He moved to The Woodlands on loan from Wharfedale in 2009, making 26 appearances during his debut season with Fylde.
And, despite being deaf for most of his life, he says it has not affected his enjoyment of the game.
"I found out I was deaf when I was two and living in France," he said. "Obviously in rugby I'm not allowed to wear a hearing aid and, when I'm on the pitch, I can't really hear anything so I get hand signals from my teammates.
"But I'm always aware if there's someone to pass the ball to.
"Anyone who has a disability it shouldn't let them stop doing what they want. Don't let anyone tell you that you can't play sport, because nothing should stop you."
Altham also insists that family loyalties will be favouring his side this Saturday.
"My mum and dad said they'll be supporting Fylde, with us being the home team, but will cheer on Wharfedale when we play there, so that's fair," he said.
"My brother's a good player and used to play for Loughborough but was out for a year with a shoulder injury, so he'll be raring to go and will be trying to prove he's better than me."