Matt Dawson tips All Blacks to win the Rugby World Cup
Last updated on .From the section Rugby Union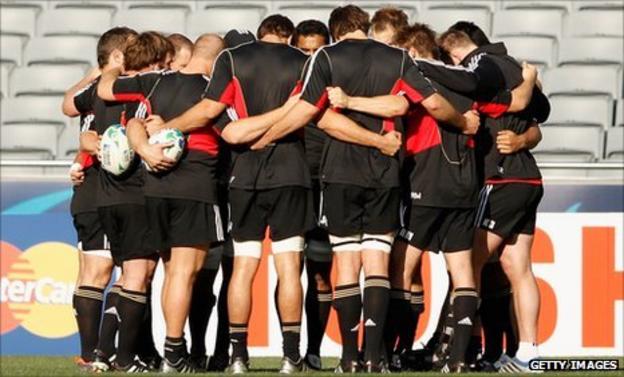 Former England scrum-half Matt Dawson believes New Zealand will win the Rugby World Cup if they can overcome the pressure of playing on home soil.
Radio 5 Live host Dawson said Australia were best equipped to challenge the All Blacks for the trophy, and that England were not without hope of winning the tournament for a second time.
"I think you'd be foolish to put anything other than ten pence on New Zealand to win it," he said.
"They are the best team at the moment."
Dawson, who was in the England side that won the 2003 World Cup in Australia said Martin Johnson's men had the potential to do well, but the 2015 tournament may be a more realistic target.
"I like England," said Dawson. "They are notoriously good at those one-off games. They are good at winning group games and then it's likely to be France in the quarter-finals.
"England have had [the better] of France over the years in knockout games. Maybe they can keep that going.
"But if you are slightly off your game in a World Cup you'll get turned over. England could lose to both Argentina and Scotland if they are not on song.
"England have to win their opening game against Argentina and win it well.
"We are the old enemy for every single country, but we are a resilient bunch.
"The younger players like Ben Foden, Chris Ashton, Ben Youngs, Courtney Lawes are now the driving force behind the team, and they are in their early twenties."
On the prospects of the other home nations, Dawson gave upbeat notions of how Scotland, Wales and Ireland may perform in New Zealand.
"Scotland will be looking for momentum within their pool," Dawson continued. "They are dogged and determined hustlers and terriers. They won two Tests in Argentina, and coach Andy Robinson has built a powerful set of forwards.
"The nous of Robinson will come to the fore, especially in matches played in bad weather.
"Wales have the banana skins of Samoa and Fiji in their pool, plus South Africa. That's three very tough games, it's a tougher group than England have.
"It will wear them out, they'll be shattered come the quarter-finals. They will probably face Australia or Ireland in the quarter-finals, but that tough group could galvanise them.
"If I was in the Ireland camp, I would look back to the England game at Croke Park in March [Ireland won 24-8] - they destroyed England, they can play world class rugby.
"I would expect Ireland to come out all guns blazing. I do like they way they play."
Dawson said the northern hemisphere teams may have one advantage when it comes to lifting the Webb Ellis trophy - they can win ugly.
"It's not just about scoring four tries and throwing the ball about, it's about winning rugby. That could favour the northern hemisphere teams, it's about attritional rugby."