Rugby World Cup 2011: Sexton unburdened by 2007 failure
Last updated on .From the section Rugby Union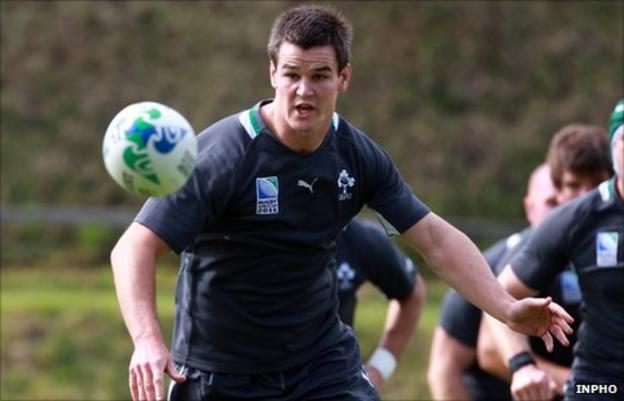 Ireland fly-half Jonathan Sexton says the squad's World Cup newcomers won't carry any baggage from the country's 2007 tournament flop in France.
Sexton was shocked by the Ireland's failure four years ago when they failed to reach the knockout stages.
"Hopefully the guys who were there have learnt from the lessons and will use their experience," added Sexton.
"But we have a lot of young lads who have no baggage and are dying to play in the World Cup."
These include Conor Murray, Keith Earls and Sexton, who all will start in Ireland's opener against the USA in New Plymouth on Sunday.
"Maybe some of us younger guys can take the lead.
"The more experienced lads are humble, they don't mind being barked at by us."
Successive defeats to Scotland, France home and away and England were hardly ideal preparation for the World Cup but morale appears to have been good since the squad's arrival in New Zealand last week.
Sexton stresses the importance of not overstating the significance of last month, but accepts there can be no excuses if Ireland fail over the coming weeks.
"Maybe at times we played those games like friendlies, viewing them just as warm-up games where results didn't matter.
"But this is the World Cup, this is what we're here for. Maybe we'll look back on those four matches as an important time when we learnt some harsh lessons.
"In 2007 the lads were undercooked and learnt a lot of lessons during the pool games.
"We wanted to make sure we had four really tough games to get a lot of the rustiness and mistakes out."
Sexton will form a new half-back partnership with Munster youngster Murray, who was the surprise selection in Ireland's team on Friday.
Murray, at 22 the squad's youngest player, will be making his full Test debut as he continues a meteoric rise that only saw him break into the Munster team this year.
"Conor's had a great 2011. This time last season he was on a development contract and then got his break," said Sexton.
"Everyone's career starts at a certain point. He took his opportunity with Munster and impressed, then took his chance with Ireland and impressed there.
"He's very laid back and I was shocked that he's so laid back.
"That's a good trait to have and he seems to take everything back in his stride. We seem to work together."