Commonwealth Youth Games: Manx win first international
Last updated on .From the section Rugby Union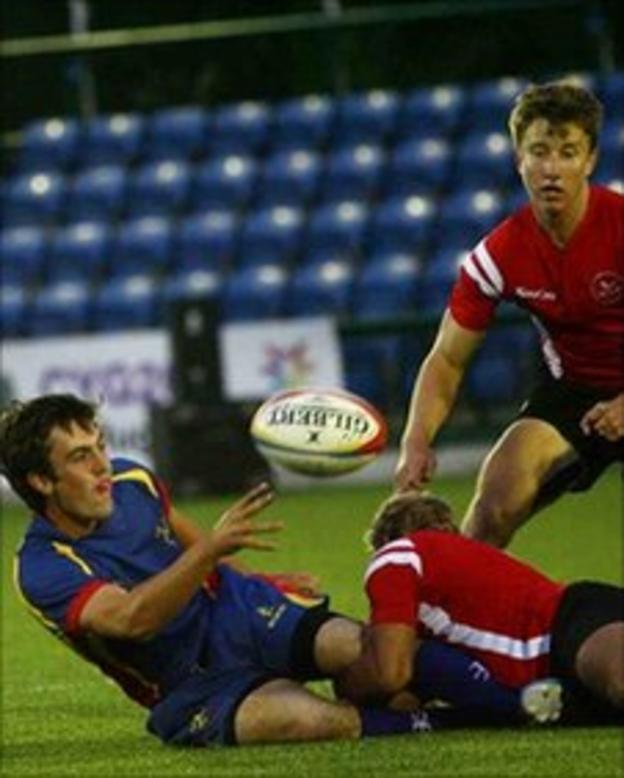 Isle of Man rugby sevens head coach Ian Williams has praised the 'effort and commitment' of his side after they won their first ever international fixture.
The team lost its first four matches at the Commonwealth Youth Games, before earning a hard fought 25-15 victory over Sri Lanka in the plate semi-final.
"The effort and commitment of the entire squad has been first class," said Williams.
The Manx team had been training towards the competition, since 2008.
Williams continued, "For a small island to compete against some of the heavy weights of world rugby is an amazing achievement.
"The boys improved with every game and I am so, so proud of them," he added.
The island suffered heavy defeats to Scotland, Australia and Canada in the group stages, before losing to 52-0 to the eventual winners, England, in the quarter-final.
Williams' side rallied to beat Sri Lanka before eventually losing to Canada in the final of the plate, to finish sixth.
Isle of Man captain, Liam Murphy, scored the island's first ever international try in their opening defeat to Scotland, said it was a baptism of fire.
The 18-year-old said: "We're only a small island and we gave it everything we had in every game. To win against Sri Lanka in front of the home crowd was brilliant."
"We've played against some of the best junior players in the world and I think we can come away with our heads held high," he added.
England beat South Africa 41-20 in the grand final to win gold and Australia beat Scotland to finish in the bronze medal position.
Commonwealth Youth Games Results
Grand Final Plate
Isle of Man 0-52 Canada
Semi Final Plate
Isle of Man 26-15 Sri Lanka
Quarter Final
Isle of Man 0-52 England
Group Matches
Scotland 43-5 Isle of Man
Australia 47-0 Isle of Man
Canada 50-0 Isle of Man