Rugby World Cup: Scots can cope with weather - Townsend
Last updated on .From the section Rugby Union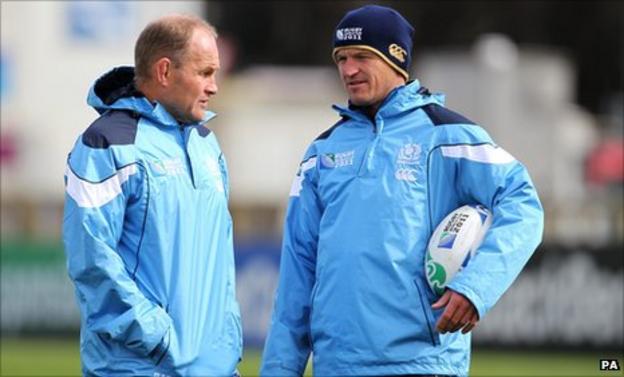 Attack coach Gregor Townsend believes Scotland can cope with the adverse weather conditions expected when they face Georgia in Invercargill.
Scotland are aiming for their second straight win in World Cup Pool B after beating Romania, while Georgia are playing their opening fixture.
"The weather could be changeable," said Townsend. "Coming from Scotland, we're not going to be unfamiliar to that.
"We've dealt with poorer conditions than we've had here."
Townsend says it is important Scotland use the conditions to their advantage.
"We believe we can still move around this Georgian team in any sort of weather," added Townsend.
"We just have to be smart when we're playing against the wind and when we're playing with it to make the right decisions.
"If we go for lapses in concentration in execution like we did against Romania then it's going to be very hard to win the match.
"We have to raise our performance during those periods when we didn't play that well."
Meanwhile, head coach Andy Robinson has warned Scotland they will be facing an ambitious Georgia.
"We see this Georgia game as a really tough game," Robinson said.
"They want a place at the Six Nations table and see this as an opportunity to put their hand up for that."
Scotland will be seeking a fifth successive victory in the game with Georgia, who are coached by former Scotland coach Richie Dixon and who have won their last eight fixtures and came close to a shock defeat of Ireland in the last tournament four years ago.
After a patchy performance against Romania on Saturday, Robinson feels his side know where they need to improve.
"We did some very good things, but unfortunately we conceded 24 points. As a team, if we want to be successful we cannot do that," the Scotland coach added.
"We have to limit the number of penalties we give away.
"We've improved our self control over the last two years. It is something we know is inside us and we know that we can improve that."
Rory Lawson will captain Scotland, in a team which features his Gloucester team-mates Scott Lawson, Jim Hamilton and Alasdair Strokosch in a pack selected to front up to a Georgia side deemed to possess more accomplished forwards than Romania.
"Right across the board there's real physicality about the side - we need to bring that physicality out in the way we play," said Robinson.
"One of the things we allowed Romania to do was get go-forward through their maul, through their scrum, but also through their pick and go and we've got to be able to stop that.
"Every player has points to prove. That's what we're looking for - the players collectively going out and performing."