Rugby World Cup 2011: Bungee-jump defended by Martin Johnson
Last updated on .From the section Rugby Union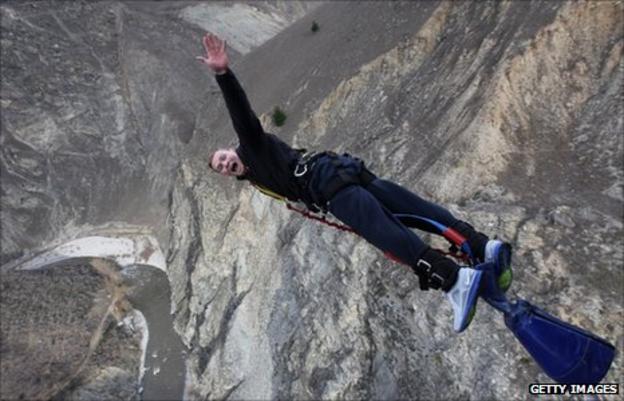 England manager Martin Johnson has defended the decision to allow his players to go bungee-jumping on Monday.
Several members of the squad completed the 134-metre Nevis jump, the highest in New Zealand, during their day off.
"What they do when they're training is far more dangerous," Johnson said. "We need a balance. We came to Queenstown to prepare for a game against Georgia.
"They've not been skiing, as that is risky. They're all sensible and they're all big boys, so it's fine with me."
After England survived a scare in their opening match with a 13-9 victory against Argentina, Johnson insisted that the next two matches in Dunedin, against Georgia on Sunday and Romania on 24 September, would also present tough challenges.
"These teams are well organised, their players play professionally in Europe or wherever they are. They're in good programs, they're organised," he said. "It's not turn up and score 50, 60 points anymore. It's harder than that and we've seen it.
"If you get to terms with that mentally - [think] 'we're going to be in a battle and we need to fight for every inch' - you're in a good place because that's what we had to do on Saturday and that's what we need to do [against Georgia] to get on top of another team."
"There's a bit of criticism gone around in the past about meaningless games in the pool, but you know what's happened at the weekend. Everyone's got to fight."