Rugby World Cup 2011: Martin Johnson questions performance of ball
Last updated on .From the section Rugby Union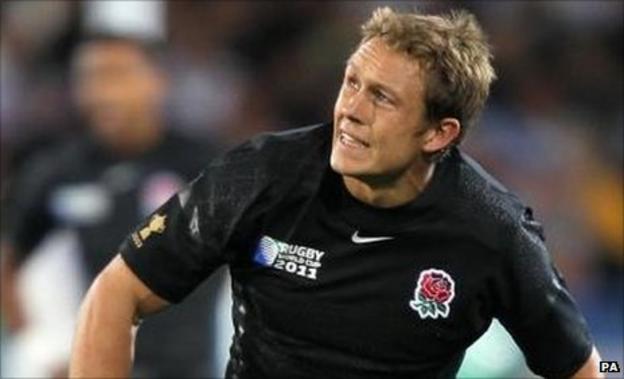 Martin Johnson says the ball could be to blame for Jonny Wilkinson missing five penalty kicks against Argentina.
England won their opening fixture at the Rugby World Cup 13-9 but Wilkinson only kicked three out of eight attempts under a glass roof in Dunedin.
Argentine kickers Felipe Contepomi and Martin Rodriguez also missed six penalties between them.
"I don't know the detail of the quality of the ball's build but they feel different," said manager Johnson.
After the match, fly-half Wilkinson said: "When I hit them [the penalties] I felt I was hitting them very, very well."
England have been playing with the Gilbert Virtuo ball since the 2010 autumn internationals and through their home Six Nations matches, while the ball has also been used in the Tri-Nations.
All World Cup teams were given 15 to use before the tournament and another 30 on arrival in New Zealand.
But Johnson claims the World Cup batch is different. He added: "Jonny thought he hit it pretty well.
"It's not my area but the detail of the ball is slightly different.
"We have seen some kickable kicks missed over the weekend.
"We have got some ideas on it. Maybe the balls feel slightly different when they are new than when they have been kicked quite a bit?
"We haven't got any hard evidence, it is a gut feeling."
Andrew Challis, Gilbert's international brand manager, said the balls had not been tested in an indoor stadium but defended the performance of the ball.
He said: "It is not possible for the balls to be different.
"All balls are made from the same production line, the same materials, the same processes. The only difference is a cosmetic one [the World Cup design].
"If that is Martin's feeling, I can't contradict him.
"We produce a ball that is constant - it is hand-checked by us before it leaves. Our confidence in the ball is absolute."