Rugby World Cup 2011: Shane Williams column
Last updated on .From the section Rugby Union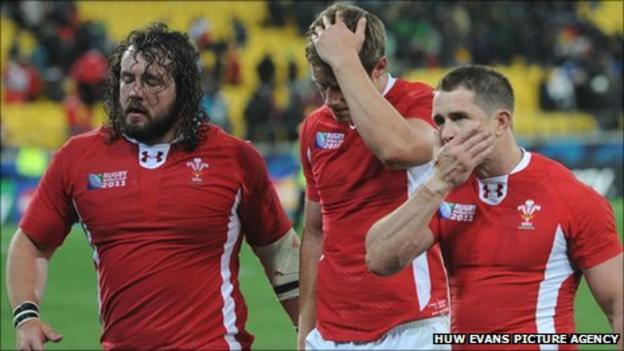 Wales wing Shane Williams reflects on their opening defeat to South Africa and looks ahead to Sunday's clash with Samoa and the chance to get their World Cup campaign back on track.
There's no point dwelling on the fact that we lost at the weekend, I'm very positive in the manner that we played the game.
You haven't got time to feel sorry for yourself and get down in the dumps.
There was a good training session yesterday [Tuesday] with the guys and today as well and we've got a big session planned this afternoon, so you don't really have time to dwell on the fact it's make or break now really.
But nothing's changed, we knew coming into this World Cup that we'd have to be playing our best rugby to beat South Africa.
We felt we were the better side on the field but unfortunately we didn't come away with a win.
But the mindset is the same - we have to win all the games remaining.
The experienced guys have been here and done it before, and they can help the younger guys through a bit.
A lot of these boys on this tour it's their first World Cup, so in that respect you do have to nurture some of them through it and let them know it's not the end of the world.
It's the first time I've come off the field against South Africa being really gutted that we were the best team and not won.
So that says a lot about where we are at the moment and all the guys as well don't dwell too much on the fact we didn't win and take a lot of confidence from the way we performed.
Obviously there were a few things that didn't go our way in the game, a few little mistakes, we were disappointed with [conceding] the two tries but those are things we can work on.
There's a great team spirit here at the moment, there were no heads down after the game and you can't afford to have that anyway.
Against Samoa it will be just as physical to begin with, if not more.
They're big guys, very direct and we certainly know the likes of [Leicester wing Alesana] Tuilagi and how they play.
I've played against that fella enough times now to know they're good players, they're very physical but they've got feet on them and they play a lot of rugby as well.
I'm closer to their ankles see, these big guys and sometimes that's an advantage for the littler guys!
I've been doing it long enough to know how to hopefully try and tackle these big guys, but having said that I've played the likes of Tuilagi and [London Irish centre Seilala] Mapusua and their other great rugby players, and it's not always direct with them so you've got to keep on your toes.
In saying that, they're certainly a different Samoa side from what we've seen in the past; far more structure in their game, set pieces are working very well and they play some good rugby - the Australia game certainly showed that.
But hopefully - if I'm playing - they're going to have to keep an eye on me and make sure I don't run over the top of these big guys as well!
It is a big game and we know we've got to play our best rugby against these guys.
As soon as you start playing sevens-style rugby against the Samoans and the Fijians you're going to find yourself in trouble.
They're comfortable in the open game, they're comfortable chucking the ball around, transfering the ball in contact.
So you need to make sure your patterns are correct, there's a right structure to your game and a right game plan as well.
You can't go into every game with the same game plan, it doesn't work against every team.
We're going to have to be on our toes. That's why this week is probably even more important than last week really, we work on the things that didn't go right last week and we do the things off the field that are going to help us win this game.
Taupo, where we're based, is a lovely place - a bit windy!
We haven't had much time yet [to look around] as we've been training, we do have tomorrow off but I don't know what we're going to do yet.
There are a couple of options but it depends how brave you are: you've got your sky-diving, your bungee-jumping, your fishing or your boating.
A few guys have said they'd like to jump off a 'plane but we'll certainly see how may of them have got the 'cohones' to do it!
I've put my name down for a few things - the bungee and the sky-diving - but I think I've just put my name down, I can't see me doing it as I'm already questioning that decision!
Shane Williams was speaking to BBC Sport Wales' Gareth Charles.