Rugby World Cup 2011: Andy Robinson looks ahead to Pumas tie
Last updated on .From the section Rugby Union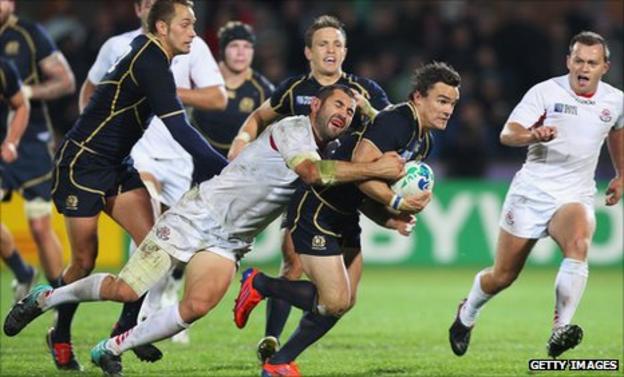 Head coach Andy Robinson expects Argentina to pose a similar challenge to Georgia when Scotland meet the Pumas in Wellington on 25 September.
He said: "We've got to look at the stop-start nature, the amount of penalties that were given away.
"But we are pleased with our shape and we just have to get into that rhythm when we play against Argentina."
Scotland struggled to a 34-24 win over Romania in the first of their two matches in Invercargill, and against the powerful Georgians, coached by Scot Richie Dixon, they relied on the boot of Dan Parks to kick all the team's points.
Now the focus for Robinson and his squad is the tie against Argentina, a team the Scots defeated twice on their own turf last summer.
"We expect the Argentinian game to be very similar to today and one of the things that we want to do is improve our ball in hand," added the head coach after the match.
"It was good against Romania at times, it wasn't as good in a number of phases today.
"We can look at the conditions but mostly we will look at ourselves."
Scotland top the table after their two matches and will hope to add to their points tally against Argentina before they take on England in Auckland on 1 October.
"We said at the beginning we wanted nine points from the first two games and we have achieved that," said Robinson.
"That's phase one out the way; we go into phase two now where we play Argentina and England and it's about winning two games there.
"We've got to focus on Argentina first, which will get us the qualification to the quarter-finals."
The Scots had only four days between their first two games and Robinson made 10 changes to the team to play Georgia, ranked 16th in the world, on a wet evening.
Parks' boot secured the points, with neither side getting anywhere near the try-line in a drab, attritional contest.
Robinson said he was "delighted" with his defence, noting the improvement from the Romania match and his squad can now rest for a period before facing Argentina, when they will try to maintain their record of progressing from the pool stage at every World Cup.
"In terms of winning a game it was a good performance," said Robinson.
"There was a lot of talk beforehand from a lot of people but the key for us was to get four points.
"The guys stuck to a very good plan. We didn't score tries but we controlled the game and some days you have to play this way, you have to win ugly, and I'm delighted with the attitude shown.
"We scored four tries against Romania and got criticised."
Parks said: "We still have more to offer and we're looking forward to the big games coming up.
"We've done well in these two games, but we move forward and we're full of confidence."
Scrum-half Rory Lawson maintained his 100% record as Scotland skipper and said that he and his team-mates were happy to start the campaign with two wins.
"The conditions dictated a lot of today," said Lawson. "We came up against a big old Georgian side who were really determined, really physical, and ultimately it was a workmanlike performance to put them away.
"We just kept plugging away in the right areas and then took the points when they were on offer.
"It's a massive hats off to our front five today. They took the Georgian scrum on. A lot has been touched on there but the boys went out and showed what we're about today.
"We came here looking to get two wins and it's tough with a four-day turn around, but we got what we came for. Now we prepare for the next challenge."