Rugby World Cup 2011: Johnson defends England night out
Last updated on .From the section Rugby Union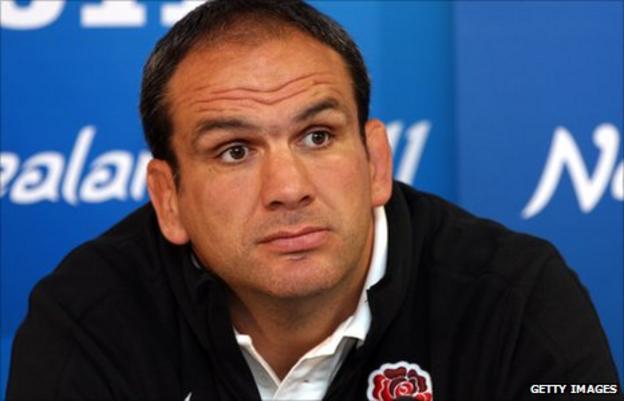 England manager Martin Johnson has defended his players after some were pictured drinking following the 13-9 win over Argentina.
The Sun newspaper featured photos of captain Mike Tindall, Chris Ashton, Toby Flood and Dylan Hartley in a bar in Queenstown.
"You have got to relieve the pressure and let off steam at the right time," said Johnson. "It was a good idea.
"I don't want to have to lock people away and not let them out."
England had already come in for criticism when several players used a day off on Monday to go bungee-jumping and white-water rafting, a decision which Johnson also moved to defend.
The Sun then printed pictures taken on Sunday of Tindall, Ashton, Flood and Hartley, as well as making allegations about Tindall's conduct.
But Johnson dismissed the controversy, saying: "Rugby player drinks beer, shocker.
"I don't [feel my trust has been betrayed]. We knew they were going out to have a few beers.
"I had no problem with them doing that. We all know when you have a rugby team that part of it is the bonding off the field.
"If there is a complaint and someone says one of your players has acted inappropriately then we will act on it.
"But the manager of the bar says the England players' behaviour was perfectly acceptable all through the evening.
"There is no implication from anyone there that we have heard that there has been any bad behaviour.
"It was guys out having a few drinks, as other teams have done in the same town during the World Cup."
On Thursday, the Rugby Football Union backed Tindall, saying: "Like all the lads, Mike plays for England with a massive amount of passion and was relaxing after a tough match."
Former England captain Martin Corry told BBC Radio 5 live that the team needed time to relax.
"They are adults and they are playing in a highly pressurised environment. They've got to be sensible about what they do, but they also need to let off steam now and again," he said.
And ex-England player Josh Lewsey defended Johnson's handling of the squad.
"You've got to back the manager's decision. You've got to remember it's a delicate line between wanting to do the right thing and preparing as professionally as they can for the games," he said.
"You are dealing with humans. There's a lot of pressure on these guys in these tournaments and you've got to devolve the authority to grown men to make sensible calls. I'm sure Johnno will make the right calls."
Rich Deane, the manager of Altitude Bar which the players visited, posted a message on Facebook defending their conduct.
He wrote: "Firstly: There was no dwarf throwing - that's just not cool! Secondly: There was no scandal by any of the English rugby players that we saw!
"They were great lads, not throwing the midgets, it was all light-hearted good-humoured fun!"