I will end my career with Bath - Duncan Bell
Last updated on .From the section Rugby Union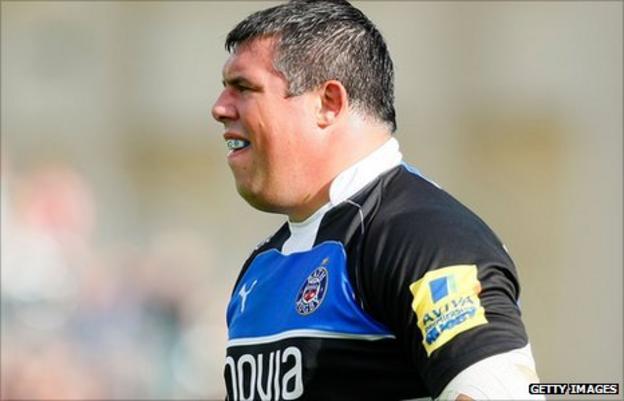 Bath's Duncan Bell will retire from professional rugby if the club does not offer him another deal at the end of the season.
The 36-year-old has been with the club since 2003 and is set to make his 200th appearance against Exeter on Saturday.
"It is certainly tough and it does get harder every year," the veteran prop told BBC Radio Bristol.
"If I'm deemed surplus to requirements at the end of the year then I will not play for another club."
He continued: "If I am wanted and needed then I'd love to be part of this club, but that's out of my hands.
"All I can do is keep myself as fit as possible, stay clear of injury and try and do the best I can on the field.
"I'm acutely aware of how old I am and there are only a certain amount of games left in the legs."
Bristol-born Bell, who was part of the Bath set-up as a youth player, had spells with Sale and Pontypridd before signing on at the Rec.
But despite his dedication to the club, he admits he has been disappointed by the lack of silverware won by the club during his tenure.
"I'm very proud that I've been a player at the club and also getting 200 games," he said.
"Unfortunately there are more lowlights - we've been to so many finals and semi-finals and almost been there, but not quite, so it's been a frustrating time.
"We haven't quite achieved what we should have achieved. We should have had more silverware in the time I've been here but for one reason or another it wasn't meant to be.
"But the club has changed over the last few years for the better and hopefully there's still more memories to come."
He added: "I've always considered it my hometown club and I shall continue to watch and support Bath long after my rugby career is dead and buried."