Scots delegation visits earthquake-hit Christchurch
Last updated on .From the section Rugby Union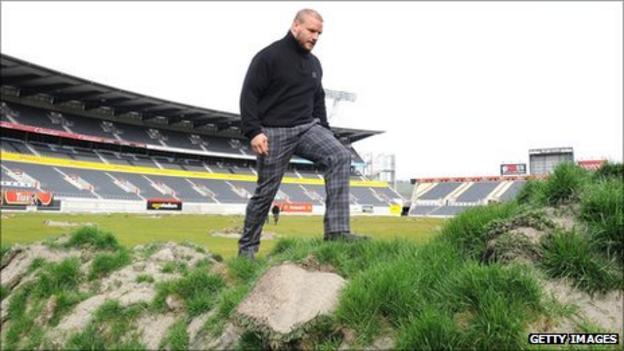 A delegation from the Scotland squad has visited Christchurch to donate money to the city's earthquake appeal.
Scotland were meant to play Argentina there in a Pool B match, but February's 6.3 magnitude tremor badly damaged the recently upgraded AMI Stadium.
The game has since been switched to Wellington, but Scotland coach Andy Robinson visited Christchurch to present a cheque for £45,000.
Robinson said: "It would have been great to have been playing our game here."
The money was raised at a Hearts and Balls send-off dinner in Glasgow for the Scotland team prior to their departure for New Zealand.
Robinson and Scottish Rugby Union president Ian McLauchlan led a six-man delegation to make the donation and to witness the effects of the earthquakes of 4 September, Boxing Day and 22 February.
The disaster claimed 182 lives and caused billions of pounds' worth of damage.
City officials estimate 1,000 buildings in the central business district alone will need to be demolished.
The Scotland party, which included captain Alastair Kellock and prop Euan Murray, took part in a number of community events and a skills session with children and young adults directly affected by the earthquake.
"To go and see the damage that has taken place, to hear some of the stories of people that have been involved in the earthquake, the suffering they've gone through and loss of life," explained Robinson.
"It's been pretty incredible to think of the suffering that's gone on through 45 seconds of devastation."
The Scots visited the AMI Stadium, formerly known as Lancaster Park, on which £31m had been spent on improvements prior to September's earthquake.
"It's a very special place to play sport," said Robinson of the stadium, which may yet be demolished as the two main stands have sunk into the ground.
"Looking around, it looks like a fantastic stadium and, for people to gear up for a World Cup and for it to be taken away from them through no fault of their own, is a real shame."
McLauchlan felt it was important Scotland made a contribution.
"It's a token really of how the Scottish people feel for the people of Christchurch," said the former Scotland and British and Irish Lions prop.
"It's desperately sad for the people who own homes and who live in an area, where they're just not sure what's going to happen next."
The funds could be used to help sporting development in the city.
"If it brings forward a couple of All Blacks, great," added McLauchlan. "It would be absolutely wonderful."