Rugby World Cup 2011: Ferris says win is only the start
Last updated on .From the section Rugby Union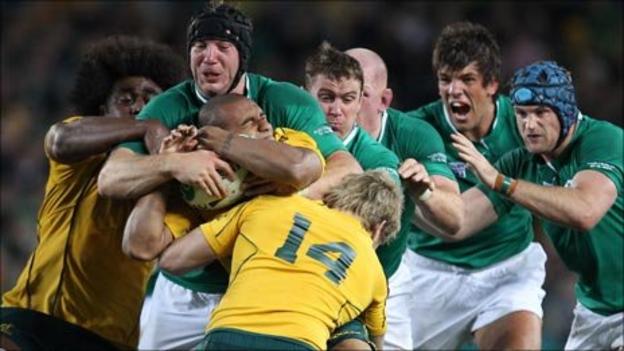 Stephen Ferris says there is plenty more to come from Ireland after their stunning Pool C win over Australia.
The 15-6 success at Eden Park on Saturday left the Irish on the brink of qualification for the quarter-finals.
"We didn't peak against Australia - there's definitely a lot more attacking ability to come from us," said Ferris.
"This wasn't a one-off performance, we knew this was brewing and we're glad it happened against Australia. We'll be targeting a big win over Russia now."
"Then we want a big win over Italy the weekend after that," added the Irish flanker, who starred among an outstanding back row against the highly fancied Aussies.
Ireland's greatest World Cup win and their first against Tri-Nations opposition in the competition indicates they are capable of making a genuine impact in New Zealand.
"If we keep playing like we did against Australia, hopefully we'll be able to maintain this and go further in the tournament.
We're still taking it game by game - we said at the start of the World Cup we just want to get out of the group.
"Our performance against Australia has put us in a good position."
Ferris was responsible for the highlight of the match towards the end of the first half when he grabbed Will Genia at the back of yet another crumbling Wallaby scrum and carried him 10 yards.
The hunger of Ireland's pack was evident as they piled in behind the Ulster hardman, rattling Australia.
The youngest squad in the World Cup was taught a lesson by the oldest.
Considering Ferris was playing only his third match since sustaining a serious knee injury in January, it was a phenomenal performance that saw him wreak havoc throughout.
"The injury isn't in the back of my mind at all. I was in the best shape of my life for the 2009 Lions tour," he said.
"But now I have three 80-minute performances under my belt and I'm starting to pick it up.
"I'm playing in a great team. Fingers crossed I'll keep improving."
Heroes in Ireland's pack were everywhere, from the brutally effective Sean O'Brien to marauding Munster colossus Paul O'Connell, from man of the match Cian Healy to destructive tighthead Mike Ross.
Ferris revealed the inspiration for victory came from senior players such as O'Connell and Brian O'Driscoll, who are playing in their final World Cup.
"You look at them in the changing room before a match and you see how much it means to them," he said.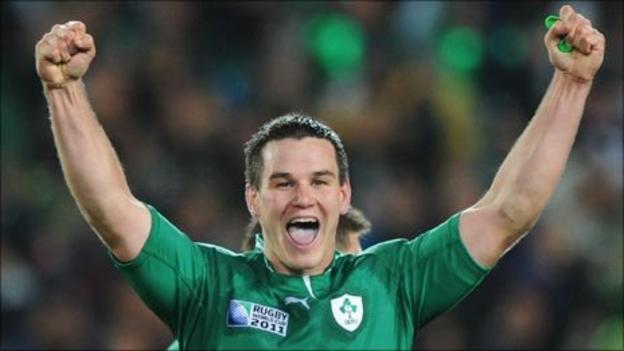 "Paul O'Connell started with tears in his eyes, telling us how he will attack the game in the first 10 minutes. You take heart from that.
"I'm a fairly quiet man when it comes to the changing room and on the pitch. I listen to those guys and feed off them."
The World Cup may still be in the pool stages, but victory has offered sight of the final with the Six and Tri Nations teams likely to be separated until the October 23 showpiece.
Facing the likes of Wales and England in the knockout stages will hold no fear for Ireland, though fly-half Jonathan Sexton insists celebrations over beating Australia must subside.
"We don't want this to be our final. Our goal was to get to the quarters," said Sexton.
"We're halfway there because now the pool is in our control. Two more wins and we're there.
"Once we get to the quarter-finals we can sit down and re-evaluate everything."