Rugby World Cup 2011: Haskell wants players singled out
Last updated on .From the section Rugby Union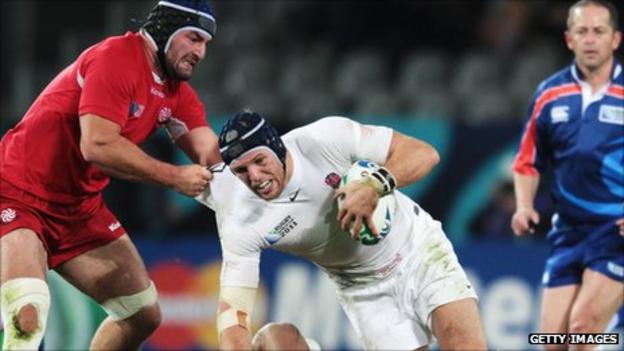 James Haskell says players who are letting England down at the World Cup must be singled out in team meetings.
And Haskell said: "The days of brushing it under the carpet are gone. It has got to that stage, got that serious.
"It starts with identifying individuals. You only get one chance at a World Cup, so faffing around is not the way forward."
A Dimitri Basilaia try close to half-time capped a strong first half from Georgia and meant England were only 17-10 up at the break.
Discussing the prospect of singling out players, Haskell explained: "That will come out from our meetings. We will have some tough video sessions on Monday or Tuesday. That's how it should be."
The 26-year-old, who was a late replacement at number eight after Nick Easter pulled out with a back injury, said England must identify "areas we need to improve, who's not working hard, who's not trusting it (the system)".
He added: "People have got to start pointing some fingers and saying 'This is not acceptable'.
"Johnno is not happy, the coaches are not happy - the players need to look at themselves and realise they are not working as hard as they should be.
"People should be excited about this team, excited about our performances, but we are letting ourselves down. We are stuck in a bit of a mire.
"Look at the good sides - they have that control. Whatever happens, you feel they are going to win. With England at the moment it is, 'This could go either way'.
"We are not in control and there is uncertainty which makes everyone go: 'Christ what's going on?'."
Haskell was scathing about the team's lack of discipline, saying: "You can't even begin to play your game if every time you do something there's a penalty.
"You are just on the back foot, tackling, get up, penalty. It is like banging your head against the wall. That is not acceptable with the players and talent we have got."
His England team-mate Chris Ashton, who scored two tries against Georgia, insisted that no link could be made between England's lack of discipline on the field and their recent issues off it though.
The winger was one of the England players photographed drinking in Queenstown's Altitude Bar last weekend. Asked whether this had affected England's discipline on the field, he said: "No. Refs are being a lot tighter now on a lot of things. I've never seen so many offsides. We have to be a lot smarter.
"You can't relate it to what happened during the week though - because nothing happened. We had a night out and that was it. We relaxed like every other team."
Ashton took great delight in ending his five-match try drought, scoring his first with a trademark swallow dive and adding a second from close range.
"I don't know if the management are too happy about the dive," said Ashton. "It might not have been at the right time because the game was a bit messy."