Rugby World Cup 2011: Samoa's Fuimaono-Sapolu escapes punishment
Last updated on .From the section Rugby Union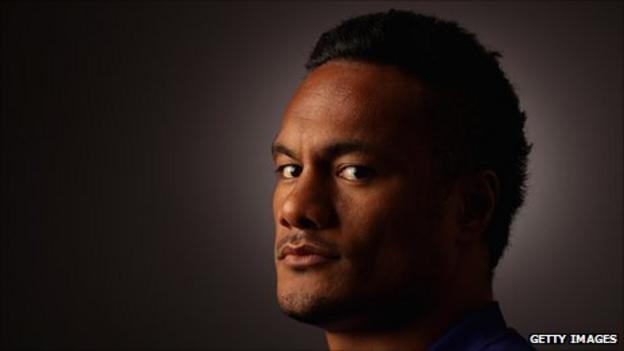 Centre Eliota Fuimaono-Sapolu will not face disciplinary action following a Twitter rant after Samoa's 17-10 loss to Wales.
He had accused the International Rugby Board of "unfair treatment" as Samoa played for the second time in four days while Wales had a week off.
He compared Samoa's treatment to slavery, the holocaust and apartheid before apologising.
World Cup organisers have said they have accepted an official apology.
"Rugby World Cup Limited (RWCL) officials met with the Samoa team management today to discuss comments made by a member of the Samoa squad via the public social media network Twitter," read the statement.
"While RWCL believes the nature of the comments to be inappropriate and has warned the Samoa Rugby Union regarding future social media conduct, RWCL has accepted an official apology and is satisfied with the proactive measures the Union has outlined to RWCL to address the matter.
"There will be no further action and RWCL considers the matter to be closed."
Fuimaono-Sapolu posted a string of messages on Twitter, criticising the World Cup fixture scheduling.
The Gloucester centre, 30, later apologised for accusing the IRB of exploitation and comparing Samoa's treatment to slavery, the holocaust and apartheid.
But he stood by his complaint there has been an injustice.
He Tweeted: "C'mon guys, obviously rugby does not even come close to what Hitler did! There still is injustice and exploitation in this instance.
"Delete the analogies. Apologies. Issues of injustice remain.
"Just feel for our people who paid for us to participate, especially the poor children who gave their lunch money."
Samoa coach Titimaea Tafua insisted his side's four-day turnaround was "not an excuse" for the defeat in Hamilton but Fuimaono-Sapolu was enraged.
Fuimaono-Sapolu originally Tweeted: "IRB, Stop exploiting my people. Please, all we ask, is fairness. If they get a week, give us a week. Simple. #equ[al]ity #justice."
He later added: "Ok, it's obvious the IRB are unjust. Wales get 7 days, we get 3. Unfair treatment, like slavery, like the holocaust, like apartheid.
"Give Wales 3 days off and give Samoa a week! We would kill them!
"You can't get punished for speaking out against injustice. That would be unjust. Anyone can tackle a man. Try tackling injustice."
The fixture schedule is more testing on Tier Two nations as World Cup organisers want to timetable the leading countries in prime-time slots to maximise commercial revenue.
It is understood the only way the IRB can solve the current fixture issue would be to reduce the tournament to 16 teams, which would undermine the desire to grow the game.