Rugby World Cup 2011: Scotland confident for Argentina clash
Last updated on .From the section Rugby Union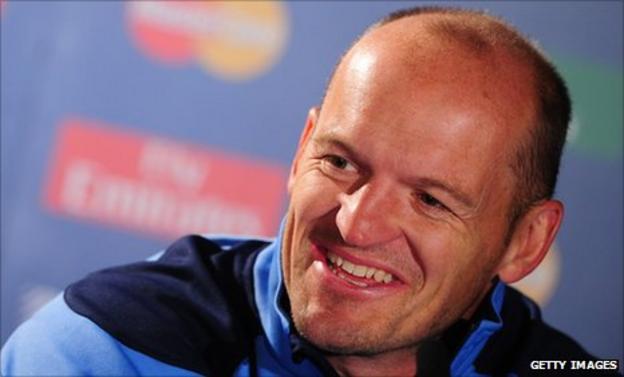 Last year's series win in South America means Scotland go into the vital World Cup showdown with Argentina in good shape, according to Gregor Townsend.
"The loser is going to find it tough to get into the next stage of the tournament," said the attack coach.
"But I believe the team we've got is more than capable of delivering the huge performance that we'll need.
"A lot of these players were involved in Argentina a year ago and know what's required to win."
The Scots earned their first southern hemisphere series win last year by beating Argentina 24-16 in Tucuman and 13-9 in Mar del Plata.
However, the Pumas were without many of their European-based stars in those encounters and have a good record against the Scots.
"This will be a much tougher challenge than we faced in Argentina," warned Townsend.
"Argentina have a lot of big game players with a lot of experience.
"We have got to match their physicality, we've got to have a very strong set-piece. They have a huge scrum, a huge line-out presence, especially in the drive.
"But it's around the pack and the breakdown where they are very strong.
"Against England, every tackle was a contest, they were in there with huge hits and back on their feet to challenge for the ball.
"They have very good back-line players, and an excellent aerial threat with their kicking game so we know we will be tested throughout the field for 80 minutes."
Argentina beat Scotland at the quarter-final stage of the last World Cup and have won eight of the 12 Tests between the nations since 1990.
The Pumas narrowly lost their opener to England 13-9 but hammered Romania 43-8, while Scotland have beaten Romania and Georgia in Pool B.
Head coach Andy Robinson has utilised most if his squad, having made 10 changes to his starting XV for the gruelling 15-6 win over the Georgians.
Tight-head prop Euan Murray will be unavailable due to his religious beliefs but Townsend admits choosing the side will be very difficult.
He said: "I've been involved in the coaching team for three years now and this is by far and away the most difficult selection process we've had.
"There are so many players putting their hands up for this game.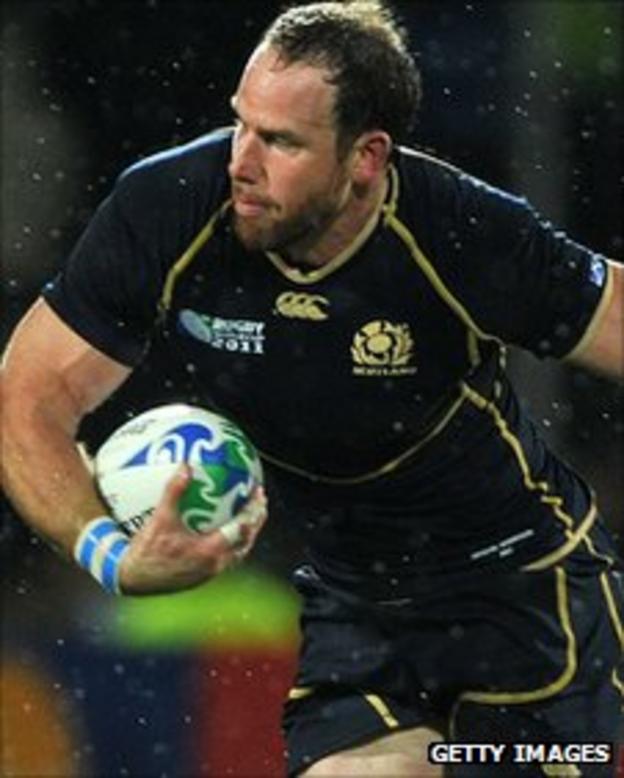 "We've had a good break so we've had time to make sure we get our tactics and selection right for Sunday."
Graeme Morrison was rested for yesterday's training session, along with Rory Lamont and Scott Lawson, but insists he is raring to go again.
"I've never been to a World Cup, so just being here is great for me," said the Glasgow centre.
"It's something that I've dreamt about since I was a kid and now we're going into a huge game with Argentina.
"It will have massive implications on our progression in this tournament, so it's a game that I'm desperate to play in.
"I'm confident that, if we train well this week and do everything we can preparation-wise, we can put together a performance that will make people back home proud.
"We're delighted with the position we are in but you could say the hard work really starts now.
"We didn't get too many chances with the ball against Georgia but I think it will be slightly different for the backs this week.
"The forwards will rumble on as they have done and the back-line are looking for an opportunity to attack and I'm sure the coaches have a few things up their sleeves, which I'm looking forward to."