No cut-backs at Newcastle - new owner Semore Kurdi
Last updated on .From the section Rugby Union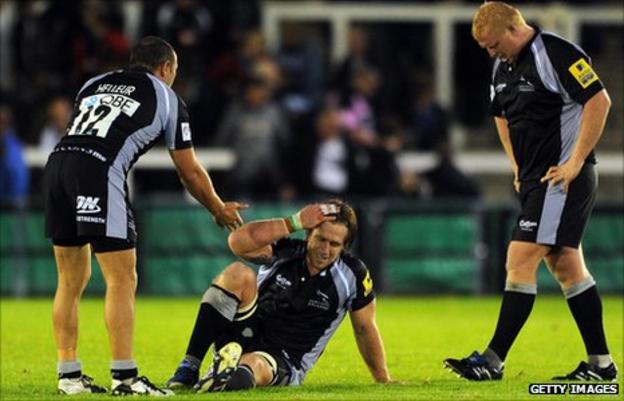 The new owner of Newcastle Falcons, Semore Kurdi, says there will be no cut-backs in player recruitment following his takeover of the club.
Kurdi completed a deal to take over as majority owner from Dave Thompson on Wednesday, although the latter retains a small stake at Kingston Park.
"For the last 12 months we've had a policy of recruiting who we need to recruit," Kurdi told BBC Newcastle.
"There have been no shortages or cutbacks on what we've needed."
Mr Kurdi, a Jordan-born businessman based in the north-east, added: "We'll continue to strengthen the squad where it needs strengthening.
"There won't be any immediate noticable changes, there will be a thorough review of the structure, on the board and management side.
"After further analysis then further changes will be made if they need to be made, but you won't see any immediate external changes."
Kurdi made his initial investment in Newcastle last September, purchasing a 40% stake, following Dave Thompson's appeal for investment.
Thompson has been owner of the Falcons for 12 years, in which time the club has retained their top flight status, contested finals and seen numerous big name players including Matt Burke, Carl Heyman and Jonny Wilkinson feature in the first team.
"It's been a wonderful time, I retired from work in 1997, got involved here in 1999, it's kept me fully involved for all of that time, I've gone grey, gone bald, but I've loved every minute of it," Thompson said.
"In terms of the running of the club and the cost base, I think we're one of the better clubs in the league," Thompson said.
"We have to be because we run in the north-east with low crowds, therefore I think I do leave the club in a relatively good position.
"I will still be as stressed as ever, you can't follow rugby in the north east without getting totally involved with it."
Kurid said he and Thompson would continue to work as a partnership.
"We're just continuing together, it just feels I'm taking more responsibility," he said.
"Dave's with me and we continue as owners of the Falcons."
"I think it's to do with Dave's enthusiasm and passion, it's contagious, which has allowed me to feel that this is a focus I should take on further."