Exeter Chiefs look at expanding Sandy Park
Last updated on .From the section Rugby Union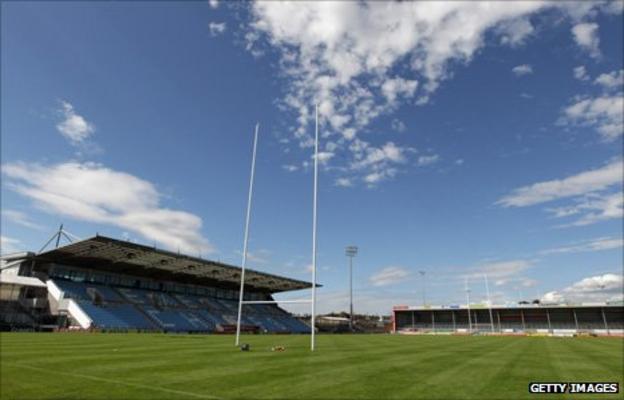 Exeter Chiefs members have asked the club's chief executive, Tony Rowe, to draw up plans to expand Sandy Park.
Chiefs' ground off the M5 currently has a capacity of 11,000, well short of the 20,000 needed to host a Heineken Cup quarter-final match.
A members forum on Monday was told more about the need for expansion by Rowe.
"As we look to move forward on the pitch, we will need to grow off it as well and increase and enhance the supporter facilities," Rowe said.
"Seeking the backing of the members to advance these plans is crucial to our long-term aim," he added.
The Chiefs, who were promoted to the Premiership in 2010, moved to their Sandy Park home in 2006 after leaving the County Ground, which had seen rugby played on it since 1905.
With the Chiefs capacity below 20,000 they would have to find an alternative venue should they qualify for the knockout stages of the Heineken Cup.
Northampton were forced to move their Heineken Cup quarter-final with Ulster this January to MK Dons' Stadium MK because Franklins Gardens was not big enough.
Members will be shown artists impressions of an expanded Sandy Park, and be able to vote on whether to go ahead with any plans, at the annual general meeting on 19 October.
"Just building new standalone stands and terraces to be used at our home games 20 times a year is both expensive and unsustainable," Rowe said.
And Rowe was quick to add that the club's members would have the final say in any redevelopment.
"As with everything we do here at the club, the final decisions will ultimately be made by the members.
"This club is not for sale and for as long as I am alive this will be a members' club.
"The members, of which I am one, will always keep a controlling interest whatever course of action we decide upon."