Rugby World Cup 2011: O'Gara quit words 'misinterpreted'
Last updated on .From the section Rugby Union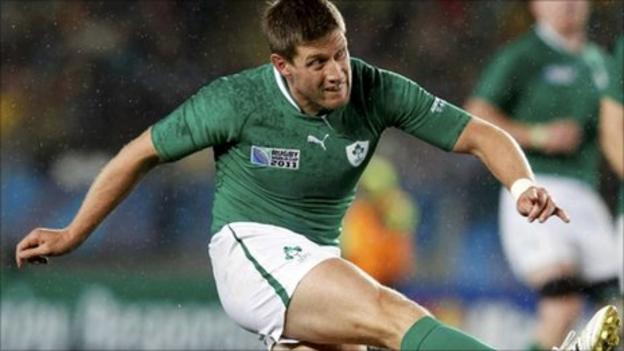 Ronan O'Gara says his weekend comments about quitting international duty after the World Cup were misinterpreted.
But the fly-half clarified the comments on Wednesday, insisting he will assess his Ireland future after the World Cup.
"It's important for me to put an end to this because it's a distraction the team don't need," O'Gara said.
"I was speaking in the context of being done with Ireland in six or seven weeks' time in terms of this World Cup.
"I said, 'I'm done with Ireland in a few weeks' and there are different interpretations of that.
"It was a great night, one of my best nights. I was so proud to be part of the team.
"From my point of view, when you set goals as a professional player, everything ends with the World Cup final.
"In my own head, I'll reassess at the end of the World Cup. But I want to be part of this team because it's a great team at the moment," added O'Gara, who is contracted with Ireland until 2013.
O'Gara, 34, acknowledged the thought of retirement has crossed his mind in recent years.
The Munster player lost his place as first-choice fly-half to Jonathan Sexton, although he continues to be an influential member of the squad.
He added: "There are plenty of thoughts in your head when you're disappointed but it's losers who quit when things aren't going so well for them.
"Retirement hasn't entered my head seriously in that regard. I'm a fighter and I'll keep fighting until the end.
"I'm not sure when that is. Playing for Ireland means so much. You don't walk away from the team until it's right.
"You take advice from people you respect on that front. I'm not at that stage yet."
After O'Gara's weekend comments, Ireland team manager Paul McNaughton said that the fly-half would be "encouraged to stay on".