Rugby World Cup 2011: News round-up
Last updated on .From the section Rugby Union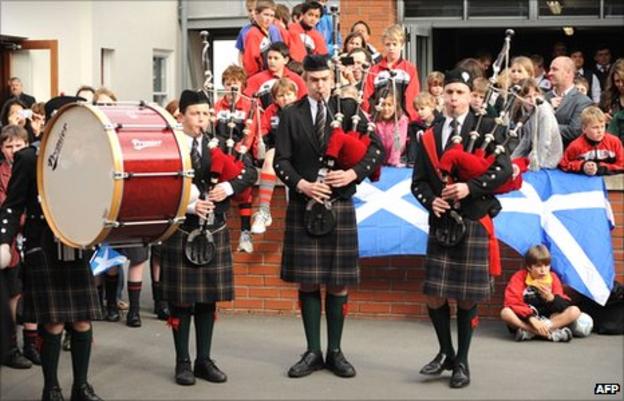 A round-up of the latest news, views and gossip from the Rugby World Cup in New Zealand.
Zara Phillips has arrived in Auckland, but has yet to see her husband, England centre Mike Tindall, the New Zealand Herald reported on Thursday. The Queen's grand-daughter was pictured at an evening charity event for the CatWalk Spinal Cord Injury Trust.
Pressure is mounting on Rugby World Cup organisers to relax a ban on musical instruments at venues which has prevented bagpipes from being played at Scotland's matches. The NZ Herald reported that an online poll conducted by New Zealand's state television network attracted more than 16,000 responses, of which 71% called for the ban to be rescinded. Officials are being labelled "kiltjoys" for their refusal to allow the pipes.
Romania captain Marius Tincu is being demoted to the bench as they make dramatic alterations for the England game. Cristian Petre will serve as captain of a side that includes 11 changes.
Australia captain Will Genia says that his team will change their style of play following their 15-6 defeat against Ireland because they haven't adapted well enough to field-position orientated rugby.
New Zealand coach Graham Henry isn't ruling out a return for Mils Muliaina in the knockout rounds, even though Israel Dagg has been chosen at full-back for Saturday's game against France.
After the first 20 of 40 World Cup pool matches the overall success rate for all goalkicks has been recorded at just over 60%. That was made up from a 70% success with conversions and only 56% for penalties, a shade over one successful kick from two penalties, which represents a significantly lower figure than in previous tournaments.
The International Rugby Board (IRB) dismissed any criticism of the Virtuo ball used in the World Cup, which has a different bladder and valve than the Synergie ball used in the 2007 tournament. "RWCL is extremely satisfied with the performance of the Gilbert Virtuo World Cup match ball," said a spokesman.
The Virtuo was introduced to Test rugby in 2010 and was used in the Six Nations and Tri-Nations tournaments as well as last year's Autumn internationals. "Every ball sent over for the tournament has been hand checked by our Ball Engineer to ensure that they are identical and that they satisfy the high standards required by a Gilbert match ball," said Richard Gray, sales and marketing director of the British company who have supplied the World Cup's balls since 1995. "The technical changes we have incorporated into the Virtuo ball enable us to inflate each ball to the correct pressure prior to handing over to match officials."
Fiji flanker Dominiko Waqaniburotu has appealed against his three-match suspension for a tip tackle on South Africa's Pat Lambie.
France winger Vincent Clerc has resumed normal training ahead of Saturday's big match against New Zealand, having been resricted earlier in the week because of deep bruising to his left thigh sustained against Canada last Sunday.
Japan coach John Kirwan, who has set the team ambitious targets of being a top-eight side by 2015 and reaching the World Cup final when the country hosts the 2019 competition, said urgent improvements need to be made. The Brave Blossoms, who were beaten 31-18 by Tonga, have lost all but one of their last 17 World Cup matches over a 20-year period and ahead of Tuesday's match with Canada Kirwan said: "Too many errors and not protecting the ball at ruck cost us dearly. We need to fix that otherwise the same thing will happen against Canada. We've got to hang on to the ball and be stronger over the ball at ruck."
A New Zealand cathedral has exhibited a painting depicting a haloed Jesus wearing an All Blacks jersey as he dispenses blessings while clutching a white rugby ball. The Dominian Post report that the painting went on display this week at St Paul's Anglican Cathedral in Wellington and sold within a few days to an Australian collector, with the part of the proceeds given to charity.
A stray cigarette butt was the cause of the large scrub blaze which alarmed fans and thousands of TV viewers during Japan's match against Tonga, a report said. Flames appeared just behind Northland Events Centre stadium's packed main terrace during the second half on Wednesday. A group of people watching the game from a tree accidentally ignited the scrub fire, which burned about 15 metres from the stadium before being extinguished by firefighters.
Christchurch resident Jeff Smith was amazed when he looked over his garden fence and saw an All Blacks training session, stuff.co.nz report. Smith was one of a small group of neighbours who had a bird's eye view over the low fence around the city's Linfield Park. The venue's gate was closed and covered with a black sheet for privacy after All Blacks officials previously complained of being spied on by rival teams. "The security (guard) said, 'We don't want you taking any photos, thank you'," Smith said.