Rugby World Cup 2011: Devout Euan Murray questions Sunday matches
Last updated on .From the section Rugby Union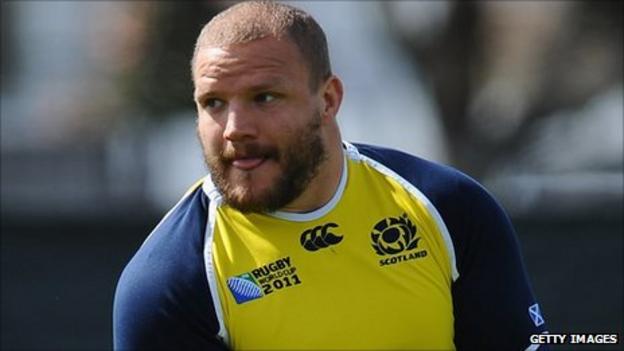 Devout Christian Euan Murray has questioned the need for Rugby World Cup matches to be played on Sundays.
The Glasgow-born prop, 31, has chosen to prioritise his faith this weekend, meaning he will miss Scotland's Pool B clash with Argentina on Sunday.
"I don't see why there have to be games on Sundays," said Murray. "I hope things will change in future."
Geoff Cross will replace Murray, who has been dubbed by Scotland coach Andy Robinson as "the best scrummager".
Murray will hope that he has done enough in previous matches to get his place in the team back for next week's match against England, which takes place on a Saturday.
Back in 2008, Murray did play on a Sunday when Scotland took on France in the Six Nations.
But, after his faith deepened, he announced a year later that he would no longer be available for selection on Sundays.
At the time he said: "It's basically all or nothing, following Jesus. I don't believe in pick 'n' mix Christianity. I believe the Bible is the word of God, so who am I to ignore something from it?
"I might as well tear out that page then keep tearing out pages as and when it suits me. If I started out like that there would soon be nothing left.
"I want to live my life believing and doing the things (God) wants and the Sabbath day is a full day.
"It's not a case of a couple of hours in church then playing rugby or going down the pub, it's the full day."
Murray is not the first sportsman to be pull out of events because of his faith, one of the best-known being Eric Liddell who felt compelled to pull out of the heats for the 100m at the 1924 Olympics.
After finding out the schedule well in advance he decided to practise doing the 400m and subsequently won the gold medal, breaking both the Olympic and World records.
More recently, triple jumper Jonathan Edwards missed the 1991 World Championships. After much deliberation he changed his mind two years later, just in time for qualifying, and went on to win bronze.
Should Scotland finish as runners-up in pool B, Murray would also miss the quarter-final and then possibly the semi-final, a similar situation to the one New Zealand star Michael Jones found himself in back in 1987 and 1991.
He was eventually omitted from the 1995 squad because he would have missed both the last-eight and last-four matches.