Rugby World Cup 2011: Richie Gray column
Last updated on .From the section Rugby Union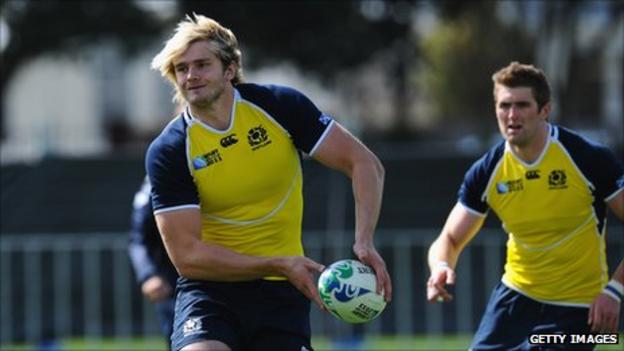 This is the biggest game of my career so far.
I was part of the squad that beat Argentina last year in two Tests. That was the first time Scotland had won a Tour in the southern hemisphere.
But that was then and this is the World Cup.
I'll deal with the game later but here's an update on my World Cup experience so far.
We started off the tournament the way we wanted: two wins against Romania and Georgia, including a bonus point for those four tries we scored in the first game.
We could have played better against Romania but we were in control against Georgia; they were a tough side and it was a good team performance.
The day after the Georgia match we left Invercargill and travelled to Wellington. I was sad to leave the southernmost city in the Commonwealth.
The welcome there had been fantastic and everyone had gone out of their way to make us happy and comfortable.
It's great to get a change of scenery though and I was looking forward to visiting New Zealand's capital.
Although the city is bigger, the welcome was just as warm. On Sunday, a large crowd gathered at the open training session in Lower Hutt including the Scottish-born mayor who was sporting the tartan and called, wait for it: William Wallace.
It's little things like that which make the tournament memorable. On my day off I went on the Lord of the Rings film tour. It was great to see the locations I'd seen on screen up close and personal.
If I was to choose which character I would be it would have to be Gandalf: wise beyond my years!
Because Wellington is bigger there's a greater variety of restaurants: lots of coffee houses and I have my eye on a place which specialises in ribs.
I've watched bits and pieces of the other games in the tournament but to be honest I've been trying to keep my mind off rugby. The laptop is invaluable and I'm making my way through the BBC series Luther.
When I have been watching the games I've noticed that defences are a lot better. From a team point of view games are built around defence. Attacking play is much harder to bring off successfully.
Okay, enough of my life in New Zealand. Onto the big match on Sunday when we meet old adversaries Argentina.
We know exactly what's coming although we expect a few surprises to be thrown in. They are a passionate team with a good defence and take great pride in their scrum and maul.
The simple equation is: we need to front up and play the game as best we can and that means getting on the front foot.
We're now in the must-win phase of the competition and I'll be playing on Sunday with Jim Hamilton as my second-row partner.
It may be the biggest game of my career so far but it's one I'm eagerly anticipating.
Scotland lock Richie Gray will be writing regularly for the BBC website during the Rugby World Cup campaign. Gray was talking to BBC Scotland's Jim Mason in Wellington.