Rugby World Cup 2011: Declan Kidney angry over Tim Horan claims
Last updated on .From the section Rugby Union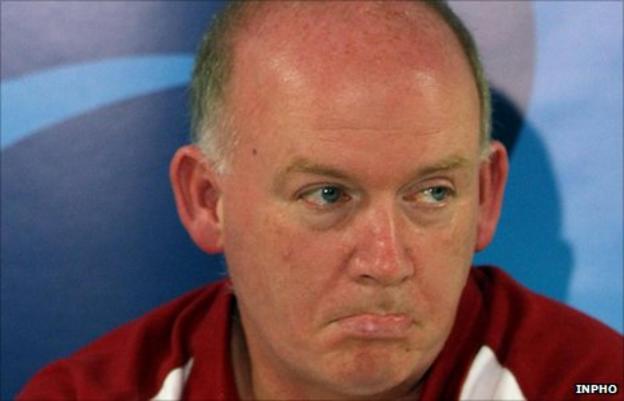 Ireland coach Declan Kidney has hit out at claims by former Australian star Tim Horan that Irish players feigned injury during last week's stunning World Cup 15-6 win over the Aussies.
Horan said he had been told about the alleged tactics by Australian-born Irish backs coach Alan Gaffney.
However, Kidney emphatically denied the allegation on Friday, describing it as "incredulous and slightly scandalous".
Horan, who won 80 caps for Australia, was quoted in a newspaper column.
"Ireland had a deliberate plan to fake injuries each time there was a breakdown in play so they could slow the game down and frustrate the Wallabies," he is reported to have said.
"How can I be sure? By talking to Irish assistant coach Alan Gaffney in the dressing rooms afterwards."
However, an angry Kidney insisted that Horan's account was inaccurate.
"The coach in question (Gaffney) never spoke to him," said the Ireland coach.
"What I can tell your for definite is that the reporter in question (Horan) was never in the dressing room," added Kidney.
"It's incredulous and slightly scandalous that he'd try to bring one of his fellow countrymen into something that is totally untrue.
"It's important that if we get something wrong, we hold up our hand.
"When we don't get something wrong we'll defend ourselves and we wouldn't be shy in doing so."
Horan heavily criticised referee Bryce Lawrence and stated he should not oversee another match at the World Cup, but conceded that "Ireland deserved to win and always would have won".
The Irish are back in action against Russia in Rotorua on Sunday.
For the latest on the 2011 Rugby World Cup in New Zealand visit our