Rugby World Cup 2011: England are focused - Mike Tindall
Last updated on .From the section Rugby Union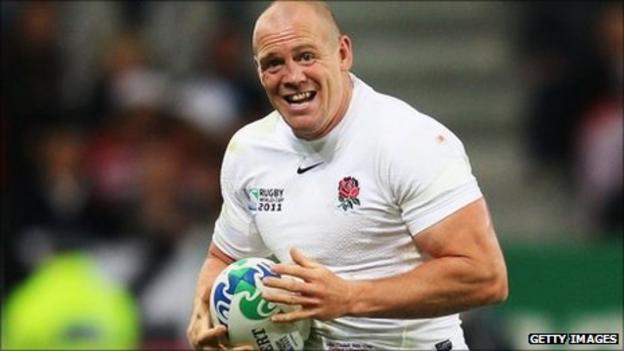 Vice-captain Mike Tindall has insisted England are focused solely on winning their remaining games at the World Cup in New Zealand.
Tindall has been in the spotlight since the Sun newspaper published photos of him and other players in a Queenstown bar after the 13-9 win over Argentina.
But, following Saturday's 67-3 victory over Romania, Tindall said: "Our off-the-field antics are going downwards.
"Quiet ones from now on. We have just got to get on and play."
England will qualify for the quarter-finals if Scotland beat Argentina in Sunday's game in Pool B.
A victory would ensure the Scots progress and their match against England at Eden Park next Saturday would then decide which team faces tournament favourites New Zealand in the last eight. France are likely to be the other qualifiers from Pool A.
Should Argentina beat Scotland, then all three teams could reach the quarter-finals.
"We've got a massive game against Scotland and then we'll see what everything throws at us and go from there," Tindall added.
"It's generally becoming a week-by-week thing. Potentially we've got three games and we've got a final and that's what we've got to focus on."
Tindall's wife, Zara Phillips, The Queen's grand-daughter, was in Dunedin to watch England's third victory of the tournament but the vice-captain is focusing more on keeping his place in the side.
"I always have something to prove to myself," he stated. "I don't care what you think.
"I always want to play. [Shontayne] Hape did a really good job last week [scoring two tries in the 41-10 victory over Georgia]. There is always pressure around.
"You have those battles in training and you have to have that pressure when you go on the field."
Tindall has moved to inside centre to accommodate Manu Tuilagi, who scored his fourth try in five Tests on Saturday.
"Manu is getting better and better so it will take something to go wrong to knock him out of that spot," Tindall continued.
"He's a freak to be honest, in the nicest possible way. The power that he's got and his feet and that little change of pace he takes on the outside. He's got a massive fend and it just makes it difficult for people to tackle him."