Rugby World Cup 2011: Italy pack set for Ireland 'war'
By Ben Dirs
BBC Sport in Nelson
Last updated on .From the section Rugby Union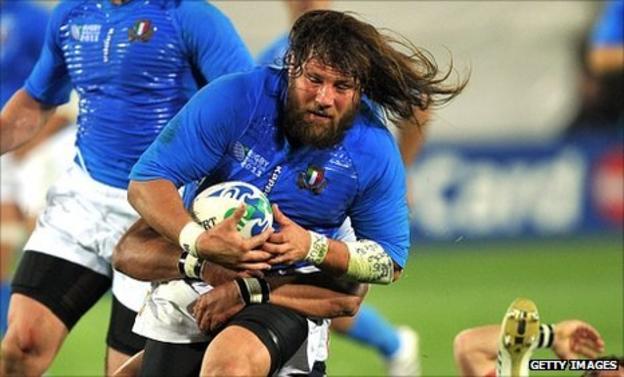 Italy prop Martin Castrogiovanni has warned Ireland's front-row to expect a "war" when the two sides meet in a World Cup Pool C decider.
If Italy win and Australia beat Russia, then Ireland will be eliminated.
"We are not afraid of anything. We want to make it a long, long day for them," Castrogiovanni told BBC Sport.
After Italy's 27-10 defeat of the Eagles, coach Nick Mallett said: "We know perfectly well that we've got a better front-row than Ireland, and we're going to go in there to prove that on Sunday.
"I'm hoping that Castrogiovanni, Leonardo [Ghiraldini] and Salvatore [Perugini] can put us on the front foot, and if you're on the front foot, it makes it more difficult for them."
Castrogiovanni was more diplomatic: "Sometimes he [Mallett] talks too much," he joked - but the prop was clearly relishing the thought of doing battle with the Irish front-row of Cian Healy, Rory Best and Mike Ross.
"The Irish scrum proved against Australia how good they are and they will be ready for that battle," added Castrogiovanni, who was man of the match against the USA.
"Healy has been really good for them and has improved a lot. He's one of the best at the moment. I think they will come to attack us - but we are ready for the challenge, we like that.
"We know we are the underdogs. They beat Australia deservedly, so they are the favourites. We know they are the better team.
"So we need to have the perfect game - physicality, good defence, no mistakes, a good kicking game - then we will have a chance.
"I think it will be a similar game to Scotland v Argentina [the Pumas beat Scotland 13-12 in a brutal Pool B encounter on Sunday]. It will be about who has the heart.
"We will have to put pressure on them in every position. It will be a war in the forwards and the backs. We have a really good backline as well. It's always a war - it's rugby."
South African Mallett makes no apologies for Italy's forward-orientated game, saying: "It would be ridiculous not to use one of the great front rows in the world.
"It's frustrating when the team gets criticised. I wouldn't criticise the All Blacks for playing with their backs and scoring great tries because they've got some of the most skilful backs in the world.
"We got between 10 and 12 penalties for scrum offences against America so clearly we had a very dominant scrum.
"And you have to remember that America have a got a very decent backline and very good ball-carrying forwards, so it's much better for them to have their heads up their backsides in the scrum rather than running round the field causing trouble for us."
Meanwhile, Eagles prop Mike MacDonald, who was given such a torrid time by Castrogiovanni in Nelson, said the front-row battle between Ireland and Italy was a tough one to call.
"It will be interesting to see how Italy go against Ireland," said loose-head MacDonald.
"Ireland had the better of Australia in their game, but Italy are such a tough collective unit. It's going to be a tough battle up front.
"The Italians have such a history of being a forward-orientated team, but the way Ireland scrummed against us, it's 50-50."