Rugby World Cup 2011: Andy Robinson ignoring permutations
Last updated on .From the section Rugby Union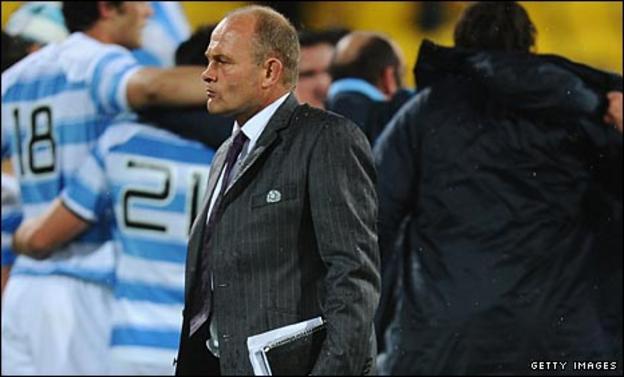 Andy Robinson will urge his side to concentrate on winning the game against England rather than think about the permutations of World Cup Pool B.
Scotland must beat their old rivals by eight points or more to be certain of advancing to the quarter-finals.
"The first thing we have got to do is win the game," said the Scotland head coach and former England forward.
"And that is how we will approach this. We have got to look at how we will win the game."
The Scots and English face a three-pronged race with Argentina for the two quarter-final places.
With Argentina likely to defeat Georgia, the Scots are outsiders after their 13-12 defeat by the South American side on Sunday.
But Robinson insists he has put that dramatic defeat behind him and is taking comfort from the experience in November, when Scotland were beaten 49-3 by New Zealand before bouncing back a week later with a 21-17 defeat of world champions South Africa.
Speaking on the team's arrival in Auckland, Robinson said: "I think you just have to look at what happened after we played the All Blacks last year, where we were comfortably beaten.
"The following week, we beat South Africa and we beat them with a comprehensive performance from everybody.
"We know what we need to do and there is total trust in the whole squad that mentally and physically they are able to rise to the challenge.
"Everybody understands that it is still in our control and we've got to go out and put in a top performance on Saturday against England."
There are a number of permutations that would allow Scotland to progress, but the most likely is that they must defeat England by eight points - thus denying them a bonus point.
Robinson was assistant coach when England won the World Cup in 2003 but was relieved of his role as head coach in November 2006 following nine wins in 22 games.
Asked whether he will be making contact with any of his former colleagues in the England camp in the lead-up to the game, Robinson said: "I don't speak to people at the best of times."
The former Bath flanker's reputation was restored in Scotland, firstly with Edinburgh, before he was persuaded to succeed Frank Hadden in 2009.
Now he must mastermind an escape from an early elimination to avoid this becoming the first Scotland side not to progress to the World Cup knockout stages.
"We will all take heart in what Ireland did against England at the end of the Six Nations and the way we played at Twickenham against England," he added.