John Beattie on Scotland's shot at World Cup glory
By Colin Moffat
BBC Scotland
Last updated on .From the section Rugby Union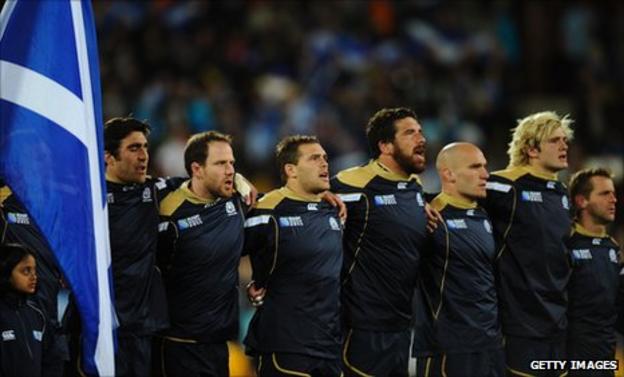 Scotland have never failed to reach the quarter-final stage of the World Cup. England can say the same.
There are several permutations surrounding the final round of fixtures in Pool B, but Scotland are almost certainly facing elimination unless they can beat the Auld Enemy by a margin of eight points, which would probably see England packing their bags early.
However, quarter of a century has passed since the Scots won this fixture by more than six points.
It's clear then that Andy Robinson's side will need the performance of a lifetime - perhaps a slice of fortune and maybe some heavy rain.
"No doubt this will be the most pressure any Scottish team has ever been under," said BBC Scotland pundit John Beattie, who featured in a few successful sides against England, including a 33-6 thumping in 1986.
"For starters, nobody in the camp thought they'd be in this position and, although they won't admit it publicly, they'll be questioning themselves and their ability.
"They should have beaten Argentina."
Scotland will have had one day less to prepare and have endured punishing contests against Romania, Georgia and Argentina.
England strolled to wins over the group minnows after prevailing in a dour struggle with the Pumas.
"The only advantage is that the English are under as much pressure - and perhaps more," said Beattie, who made the last of his 25 Scotland appearances in a 21-12 defeat at Twickenham.
"English rugby players are brought up on legends of Scottish players spoiling their day, but usually, it has to be said, at Murrayfield.
"So I guess that half of the effect on the outcome depends on England's players. English mothers probably cradle their children and sing lullabyes like 'Beware the Scots, they pull you out their cots'... or something like that.
"If the English are tentative, nervous, unconvincing, slightly lacking in confidence and see a few things going against them early in the game then a Scotland win is possible."
Scotland have not scored a try in the tournament since the opening-round victory over Romania and that has been a failing for many years, despite developing a more expansive style under Robinson's guidance.
However, the Scots looked solid against Georgia and Argentina, until a late lapse in concentration cost them dear in Wellington.
"It's the traditionally fragile parts of Scotland's game that have stood up well," said Beattie. "Scrums have been secure and lineouts are good too. Ball retention has been pretty good and defence as well.
"It sounds silly to people who haven't played rugby, but it will be as much a psychological game as a tactical one.
"You all know what it's like in the school playground, the athletics field, the tennis match, or in any competition. Sometimes, just sometimes, one team wants it more. Sometimes the unthinkable happens and we've all been involved in those confrontations.
"The team that form says should win, loses. There is much scratching of heads afterwards.
"Winning players sometimes want it so bad that they take the field thinking 'this might just be the very last thing anyone ever sees of me playing international rugby'. Coaches know that all they have to do is say 'You know what to do'."
The world's oldest fixture is being staged on foreign soil for the first time in its 140-year history and some New Zealand rain might be welcomed by Scotland.
England have played all three of their games under the fixed roof of the Dunedin stadium, while two of Scotland's matches have unfolded in soaking wet conditions.
So Robinson may have his players doing a rain dance in between training drills.
"My guess is that Scotland and England will have set-piece parity. Scrums and lineouts are restarts," was Beattie's prediction.
"I fundamentally believe that if Scotland can keep the ball and keep it in contact and make the kind of athletic, aggressive, co-ordinated and choreographed assault on England that's needed then they'll go through.
"If not, they're on the plane home and some reputations are up for renegotiation."