Rugby World Cup 2011: Contepomi predicts 'gruesome' game
Last updated on .From the section Rugby Union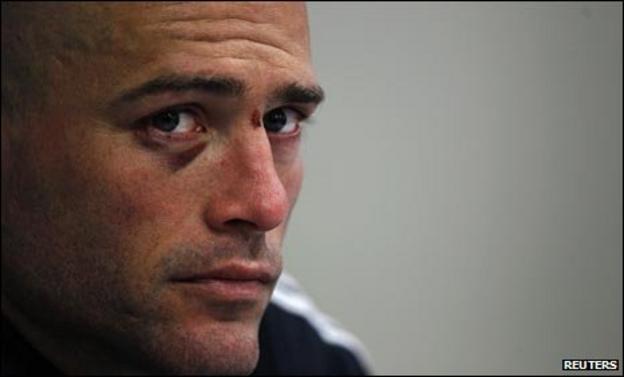 Argentina captain Felipe Contepomi predicts a "gruesome battle" when England and Scotland meet on Saturday.
The game could also determine whether Contepomi's side progress to the World Cup quarter-finals, with all three sides still in contention.
"Having played both I think they're two very tight teams," he said. "It will be a gruesome battle.
"England are on the front foot but Scotland also have a chance. Anything can happen, it's a World Cup."
The Pumas will know when they play Georgia in their final Pool B match on Sunday whether a simple win or a win with a bonus point will be necessary for them to advance.
England top the group and only require a draw to qualify, while the Scots must win to keep their hopes alive. Contepomi believes the rivalry between the two countries makes the game doubly unpredictable.
He added: "Scotland and England have a very big history - they have very big battles.
"But, if anything, history tells that Scotland can beat them or England can take the advantage."
Contepomi's side lost 13-9 to England but beat the Scots . He is familiar with the complicated mathematics that may be needed to decide which two teams progress from Pool B.
He said: "If Scotland wins without a bonus point and denies England a bonus point and we don't win with a bonus point, we all finish with 14 points.
"If Scotland beats them without a bonus point to England, it will go on points difference between the three teams.
"We already won by one point and lost by four, so we are minus three and England would be minus more because they beat us by four and, if they lose to Scotland by more than seven, they are more than minus three."
However, looking ahead to a game against Georgia his side are heavily fancied to win, he concluded: "I think we just have to win."